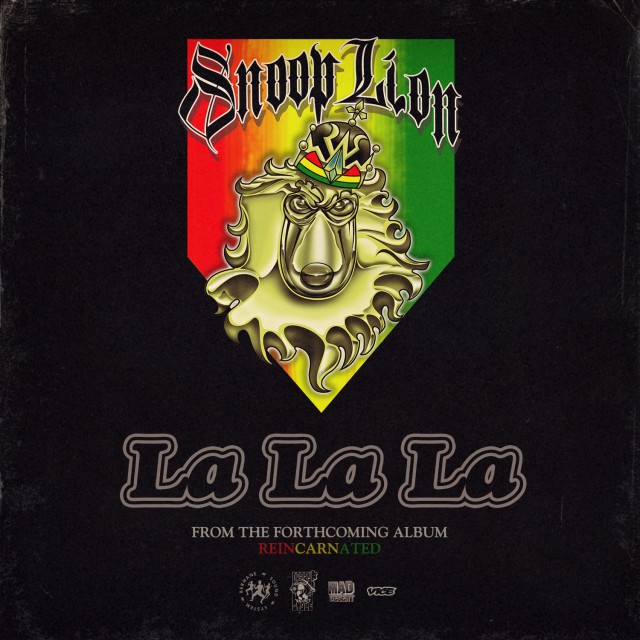 We confirmed that Snoop Dogg had reincarnated as Snoop Lion with the release of his new single La La La back in July.
We followed that with news that Snoop Lion planned to release an entire reggae album produced by Diplo and the Major Lazer production team as well as a documentary, shot during his time in Jamaica whre VICE documented Snoop's very personal journey and his time spent with Rastafarian elders; we then dropped the Snoop Dogg as Snoop Lion: Reincarnated Official Documentary Trailer before the documentary premièred at the prestigious Toronto International Film Festival.
Today Snoop has dropped the video to La La La via MTV which you can watch below.
Snoop Lion – La La La (Video)
Official Press Release
Los Angeles, CA (October 31, 2012) – Today, Snoop Lion is excited to premiere the official music video for "La La La," the first single from his forthcoming Reincarnated album. MTV Networks will host the exclusive world premiere via their various channels – including MTV, MTV Hits, MTVU, MTV Jams and MTV.com. 
Snoop Lion collaborated with renowned film director and screenwriter Eli Roth to create a fun; Halloween inspired music video filled with kids in Halloween costumes and imaginative scenery.
Tonight fans in Las Vegas will also get a special Halloween treat at 7pm PST as "La La La" will debut high above the world famous Vegas strip on Harmon Corner's LED screen. The screen sits atop Eli Roth's multi-leveled horror maze, the GORETORIUM.
"I've always been a fan of my neffew Eli's work and had a vision of working with him for a minute now. For this video, I wanted to do something different – something I wasn't able to do with my other music," said Snoop Lion.  "This collaboration really shows how creative we can get as a 1-2 combo.  He's Dwight Howard and I'm Kobe Bryant.  We feed off each other. It's a dope video and offers my fans a first official look at Snoop Lion"
"La La La" will be the first music video ever played on the Harmon Corner LED screen. Created by Branded Cities, the screen is an incredible 306 feet in length and features an astounding crystal clear high definition picture (1440p). The monstrous screen is bigger than a football field and nearly the size of 27 regular billboards.
"Working with Snoop was a tremendous honor, as I've been a fan of his for 20 years," said Eli Roth. "I've had many offers to direct music videos but wanted to make my first one something special. Snoop was an amazing collaborator and together we created something wild and fun." 
In anticipation for the "La La La" music video premiere, Snoop Lion has also teamed up with three renowned producers to create special remixes of "La La La". All three remixes will be available for stream and download on Snoop's 
Soundcloud
 today.
Snoop Lion's Reincarnated album and documentary project traces Snoop's spiritual odyssey during his time in Jamaica. The Jamaican culture and people, positively impacted Snoop and his interactions with them resulted in his being rechristened "Snoop Lion".
For those who missed the single, check it below.
[raw]
[/raw]