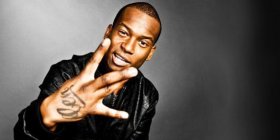 Here's the next record from Fashawn's "Champagne and Styrofoam Cups" project titled "Diamond and Girls".
The release has been pushed back to November 20th, as Fash is prepping a strong end to 2012 before releasing "The Ecology" LP in 2013. Fashawn is releasing this record to celebrate Barack Obama's Re-Election letting the youth know know "Barack's the Diamond in the rough and that the world is yours." The cut – which you can check below – is produced by LA area producer JLBS who's responsible for hits from R.Kelly, Jhene Aiko, Kendrick Lamar, Pac Div, Casey Veggies, Dom Kennedy & more.
Fashawn – Diamonds and Girls (Feat. K-Young) (Audio)
[raw]
[/raw]
Stay locked to dubcnn.com for Champagne and Styrofoam Cups – November 20th.