As we've been reporting for weeks now The Game has been gearing up to release Jesus Piece his fifth studio album.
The day has arrived and the 16-track deluxe offering – available on iTunes –  has arrived. The GRAMMY-nominated, multi-Platinum artist Game fulfils his Interscope Records album commitment with this release and follows up 2011's The R.E.D. Album with a feature packed, fresh sounding new LP.
Already on Dubcnn you've experienced the lead single "Celebration" (and its official music video) featuring fellow platinum selling artists Chris Brown, Tyga, Lil Wayne and Wiz Khalifa, as well as #SundayService Twitter campaign previews including the Celebration Remix with Bone Thugs-N-Harmony and "Murder" featuring Scarface and Kendrick Lamar.
When asked about the release recently Game explained;
 "The Jesus Piece album concept came together while I was recording a song that eventually became the title track.  It was this song that inspired me to create series of recordings themed around experiences and feelings that I hope everyone can relate to on some level. I have an amazing collection of artists helping me deliver the 'good word' and I hope the fans will receive it as one of their favorite hip-hop albums of the year."
As mentioned earlier the LP is feature packed – in fact 23 people grace the album including Kanye West,  Common, Meek Mill, Kendrick Lamar, Roosevelt, Chris Brown, Tyga, Lil Wayne, Jamie Foxx, Wiz Khalifa – not to mention Kevin Hart on the skits. Recently Game spoke to MTV news about the abundance of guest appearances stating;
"The thing about the Jesus Piece is, it's kinda like a 2012 Chronic album, if you will. I'm on it, and I'm on it a hell of a lot, but I got a lot of features"
With that likening in mind he'll be pleased with the reception Dr. Dre gave the album in a text message that Game made public via Twitter
"Your album is Dope. The song with the D'Angelo sample ['All That'] is fuckin Crazy. Great job. Congratulations!!!!"
So we urge you all to hit your local store today and cop Jesus Piece or alternaitvely buy online via iTunes and swoop the Deluxe Edition! To whet you're appetite we've put together a mix of the best #SundayService cuts and promo tracks for you to listen to below! Editors Note; we've just added the Bonus Tracks "Dead People" produced by Dr. Dre and the Shyne, Diddy & G-Unit Diss "Blood Of Christ."
Dubcnn Collection: Game – Best "Jesus Piece" Promo Cuts
[raw]
[/raw]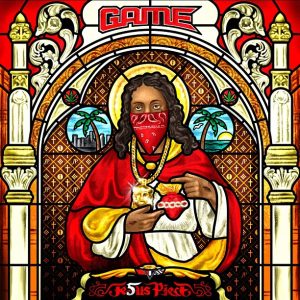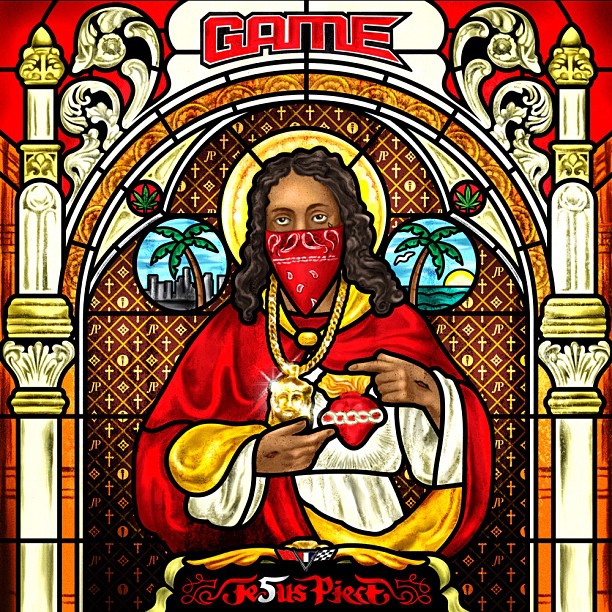 Jesus Piece – Standard Deluxe Track Listing (iTunes Version)
01) Scared Now ft. Meek Mill
02) Ali Bomaye ft. 2 Chainz & Rick Ross
03) Jesus Piece ft. Kanye West & Common
04) Pray ft. J. Cole & JMSN
05) Church ft. King Chip & Trey Songz
06) All That (Lady) ft. Lil Wayne, Big Sean, Fabolous & Jeremih
07) Heaven's Arms
08) Name Me King ft. Pusha T
09) See No Evil ft. Kendrick Lamar & Tank
10) Can't Get Right ft. K. Roosevelt
11) Hallelujah ft. Jamie Foxx
12) Freedom ft. Elijah Blake
13) Celebration ft. Chris Brown, Tyga, Wiz Khalifa & Lil Wayne
14) I Remember ft. Young Jeezy & Future
15) Blood Diamonds
16) Dead People (iTunes bonus deluxe track)