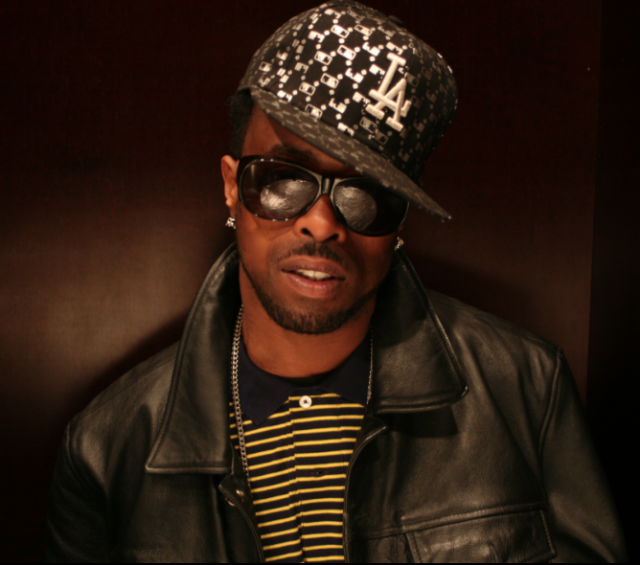 As an integral member of not one, but two pioneering Left Coast Hip-Hop collectives; N.W.A. and the Posse, as well as a pre-Ni99az Wit Attitudes Ice Cube led C.I.A. [Cru' in Action!], triple threat – rapper/deejay/producer – Sir Jinx is a self-professed "West Wing Legend."
Over the course of a 25-plus year career, the renowned multi-platinum South Central Los Angeles native has logged in countless hours of studio time crafting classic hit records for a multitude of rap and R&B luminaries such as Ice Cube, Dr. Dre (who also happens to be his cousin) Kool G. Rap, Xzibit, Kurupt, Too $hort, Jayo Felony, Yo-Yo, WC and the Maad Circle, Coolio, as well as the late, great icons Teena Marie & Gerald Levert.
In July 2011, Sir Jinx released the exceedingly overdue and stellar collection, General Population, with contributions from the aforementioned Jayo Felony ["Rime Scene"], Roscoe/DPGC ["Bump Bump" & "In My Footsteps"], Devin The Dude ["Gather My Thoughts"], Butch Cassidy ["I Don't Take You Serious" & "That Type of Girl"], Ras Kass, Rodney-O & Bone Crusher ["The Time Is Now"] and protégés Tri Star & Dat Boi Hop, with outside production courtesy of The Futuristiks (Eminem, Redman), Thayod Ausar (50 Cent, Xzibit) Jesse West (Bad Boy, KRS-1) and Trevor Lawrence (Dr. Dre, Eminem).
Today, Sir Jinx, in association with his Coastal Contra Music Group venture, has returned with a brand new, star-studded musical extravaganza, Sir Jinx…Presents The West Wing. This stellar release is chock-full of some of the biggest names in the music industry including Dogg Pound member Kurupt, Jayo Felony, MC Eiht of Compton's Most Wanted, King T, Public Enemy's Flavor Flav, Kid Frost, Mr. MayLay, Crooked I of Slaughterhouse, Ya Boy, Yo-Yo, Medusa, Cypress Hill's B-Real, Xzibit, Skillz, Fabolous, Dru Down, and comedians Dave Chappelle, Mike Epps & Joe Torry round it out. Along with, of course, Sir Jinx, other producers on board to lend a hand are Pockets, Rush, Dae One, Rocko, Thayod Ausar, Jesse West, Battlecat, The Futuristiks, Josef Leimberg, Track Team, Big Foot, Choir Boi and Vito.
The epic full double-disc tracklist can be seen below with the cover to the right.
Disc 1
01) Lock Down Intro. Ft. Frezz Love
02) Sound Boy Killa Ft. General Jah Mikey
03) Wrong N!Gga Ft. Tony Villah
04) Get It In Ft Tony Villah, Noni Spitz, Ken L, Jayo Felony
05) City Lights Ft. Jayo, Medusa
06) Whole World Spends Ft. Kurupt, Mc Eiht, King T, Bokie
07) Blame It On Me Ft. Dat Boi Hop And Tri Star
08) Flavor Flav Drop
09) Street Chatter Ft. Priceless, May Lay
10) For The Money Ft. Gangsta, Kurupt, Mc Eiht, Dresta
11) Joe Torry Dru Down P On The Street
12) Don't Stop Ft. Tri Star, Flash
13) Hop Off Insert Ft. Gangsta
14) You Mad Ft. Ya Boy
15) Who Is Sir Jinx Ft Skillz
16) Put It In My Name Ft. Tony Villah, Choir Boi
17) How Does It Feel Ft. Jayo Felony, Sly, Medusa Produced By Sir Jinx
18) Change Your Chick Ft. Tony Villah, Choir Boi
Disc 2
01) Fakemuthaphucas Ft. Tony Villah, Kurupt
02) Anotha Murda Ft. Prodigal Son From Wu Tang Clan Crooked I, Big Foot
03) Wut Dez Gez Iz Cookin Ft. Kid Frost
04) Back Room Mitchy Slick
05) Hard Labor Ft. Hot Box, Big Sono, D Dash
06) Dave Chappelle, Fabolous Drop
07) Look N!Gga Ft. Kurupt
08) So Good Ft. Roscoe
09) Breath Life Ft. Hop, Mykestro, Tony Villah, Choir Boi
10) Enjoy Yourself Wit Me Ft. Yo Yo
11) Everyday Ft. Tony Villah
12) In My Driveway Ft. Tony Villah, M Hat, Kurupt
13) For The Love Of Money Ft. Tony Villah, King T, M Hat, Medusa
14) My Life Ft. Tony Villah, Medusa, Kurupt
15) So Crazy Ft. Tony Villah, Choir Boi
16) She's At The Club Ft Tony Villah
17) Respect My Ge Ft. Gangsta Big Dutch
Sir Jinx…Presents The West Wing is out now via Amazon.