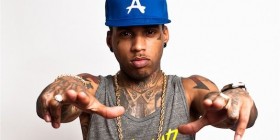 Since July 2010 when KiD Ink first emerged on Dubcnn with Wait For Me – produced By Essay Potna – it was clear the Alumni Music Group representer was destined for big things. Later that same year he dropped the acclaimed mixtape Crash Landing (Hosted By DJ Ill Will & DJ Rockstar).
In May of last year he was back with Los Angeles rapper My City alongside Killa Kyleon, Red Cafe and Machine Gun Kelly from his Daydreamer album which he released in June. The album featured the single Live It Up with Mann as well as the video for It's On.
Late last year he appeared on Liquid Love with K-Young before linking back up with DJ Ill Will for another free mixtape; Wheels Up, from which he released the  Get Mine.
Today we've got his new music video directed by Matt Alonzo which features YG, "What They Doin".