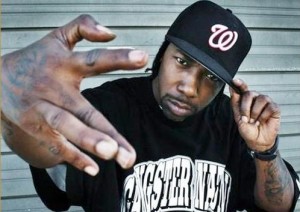 Earlier this month MC Eiht dropped his brand new EP "Keep it Hood". The 7 track EP – which features the single "The Reign", produced by Brenk Sinatra, and with DJ Premier scratches – is available now via iTunes.
The Compton MC sat down with HipHopDX to discuss the release of the new project which has been getting rave reviews. Also in the interview, Eiht had a chance to speak on a number of topics including the rise of Kendrick Lamar, the DJ Quik beef and his memories of working with 2pac.
Speaking on the recent success of K.Dot, Eiht shared his opinion on what helped Kendrick reach those levels.
Go back and listen to some of his earlier stuff, it's like, Okay, he's got the talent, and he knows what his direction is. He's a cat that got on his bicycle and said, "This the way I'ma ride mine. Y'all might be riding on the handlebars or standing up or doing tricks, but I'ma get in my own lane and I'ma ride mine like this." And he stuck with it and it's paying off. You gotta be true to yourself and to your craft. Once you do that, people will follow along.
Following on the left coast veteran gave an honest and humble assessment breaking down the feud with fellow Compton star DJ Quik, the back and forth on wax and the subsequent squashing of the beef.
I thought it was a clever line ("left out the 'G' 'cause the G ain't in you"? ). It wasn't nothing to the authority of the realness. But, that's Hip Hop.

It was a clever line, because I spelled my name differently than "eight" is spelled. So, if you a Hip Hop dude and you smart with your lyrics and you smart about your wordplay, then you gotta come up with clever lines like that…just like when I said [on "Def Wish III"] "DJ Quik's in a khaki bikini," you have to come up with lines that will basically maintain your round, [whether it's] the second round, third round. It's just like a prizefight: you hit once, they hit you back twice, you hit them back three times. Eventually the fight's gonna be over sooner or later, so…
Check out the full interview over at HipHopDX. Shout out to the guys over at that site doing a great job!
MC Eiht – The Reign

[raw]
[/raw]