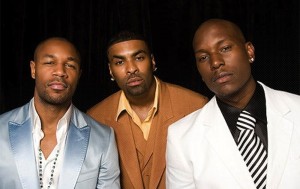 Last year we posted an article called "TGT: Tyrese, Ginuwine & Tank – The Giant Three" where Tim David Harvey took a closer look at the R&B Rat Pack; Tyrese, Ginuwine & Tank.
Since then, we were on hand to report TGT Signing Atlantic Records Contracts (Video). A monumental occasion considering the trio are set to release a long-awaited album after years of delays and legal issues.
Having first formed in 2007 as a group they have spent recent years at odds with their respective labels to enable them to record the TGT project as a collective.
TGT have just released a new single which is sure to be a big hit among their fans. "Sex Ain't Never Felt Better" is just a sample of what to expect from this super-group on their debut album later this year.
TGT – Sex Ain't Never Felt Better
[raw]
[/raw]