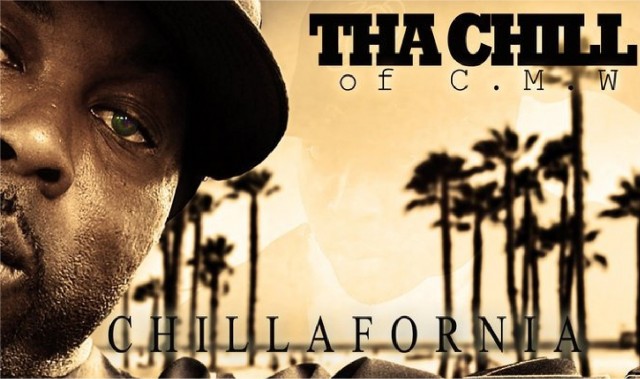 West Coast veteran Tha Chill of Compton's Most Wanted returned this week with his new album "Chillafornia", which he released while he's currently incarcerated.
The album had previously leaked in unfinished form and Chill is officially releasing his long awaited project via iTunes and all digital retailers and streaming services.
The album features guest appearances from Tha Dogg Pound, MC Eiht, King Tee, Jayo Felony, Kokane, MC Ren and Daddy V among others and is jam packed with West Coast Gangsta Music.
Check out a preview song off the album below, "We Ain't Feelin Nat" featuring Tha Dogg Pound.
Tha Chill Ft. Tha Dogg Pound – We Ain't Feelin' Nat (Audio)
[raw]
[/raw]
You can check out a video off the album below: VIDEO: Tha Chill, King Tee, Kurupt, Jayo Felony, MC Eiht & Gangsta – Sharkz
The "Chillafornia" album is now available on iTunes, along with all digital retailers and streaming services.
Chill also released an exclusive letter to his fans via DubCNN.com, where he adresses his current situation and talks to the people. Check it out:
"To DUBCNN,
What up Love ones, Kinfolks, Relatives, Cousins, Niggas, Niggettes, AND ALL MY HATERS!
This is ya boy Tha Chill from Comptons Most Wanted, Super producer, from the Worlds most Westiest group "1st Generation"
Im shootin a kite from Jamestown prison in California. Its unfortunate that Im not here and not there working and supporting my family, but time is ticking non stop and my departure from prison will be here real soon. I've heard alot of the rumors out there and it's crazy but expected in the business im in for folks to assume they know what the fuck they're talking about (LOL) Im in prison because I violated my probation by not complying with my terms and came in contact with the police.In CA when you are on probation or parole it's a violation to come into any type if contact with them. With the record I got, The bitch ass DA and punk ass Judge felt it was best for me to do the time instead of be on "Joint Suspended Probation" (a straight set up! LOL) anyways, Im here getting it out the way and in the meantime Ive been choppin it up with my homie Nima about my next moves.
We just dropped the lost files to "Big Homie Music" on iTunes on my label BJ inc. With the homie Ghazi over at empire distribution (peep that out) and I'm about to drop the long awaited real version to "Chillafornia" on BJ inc/Empire Distribution in a minute. Also a 1st Generation EP will be dropped soon. Look for me on my homie Xhibit's new shit "Napalm" killin it on production. Peep out MC Eiht's new mixtape & look out for the homie KingTee's mixtape. Im killin it on these joints. Also me and my bro Kurupt got a bunch of slappers together that he will be droppin, and a lot of other shit is comin! Yea! I gotta catalog like Tupac haters(LOL) So, I'll be back before you take this good music out your ipod playlist for some more to add to it.
As for me in prison, I'm in here workin out like crazy, finishing up writing the movie & book "Compton's Most Wanted" staying sucka free & keepin Family and God first. So for those supporters and to all my haters, Im still killin shit & will be back in a hot minute to kill some moe shit and continue to be one of the hottest producers out The West Coast. Thanks for all the support and love over the last 2 decades in the game. Shouts out to my homie Nima, the homie Ghazi, my BJinc staff, Weazle Loc, Lil Chill, Spizzle.com, Bayleaf and my loving WIFE for LIFE Mrs. Jazzy Johnson. Big shot to my group of killaz "1st Generation" MC Eiht, Kurupt, Gangsta,KingTee, Sir Jinx, DJ Battlecat, and Free my nigga Jayo Felony…Tha Chillis right behind him! Get ready you SUCKAZZZZZZZZ!!! KMG from Above The Law REST IN PEACE!!!
                                                           CMW/PimpClinic
                                                                 4 Life,
                                                        THA CHILL
                                                                   Sharkz! "
S/O to Chill letting it be know live and direct on DubCNN.com!