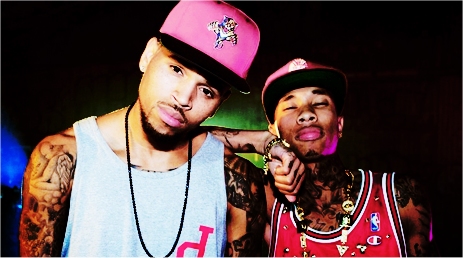 Having dropped his solo album "Careless World" last year, Cash Money's West Coast representer Tyga is all-set for a steller 2013
Already in 2013 he's dropped a music video featuring Game, Switch Lanes, from his upcoming Well Done 3 mixtape as well as a video for the Rick Ross featured "Dope" from his upcoming Hotel California LP.
Last week he brought us another track from "Hotel California" entitled Molly with Wiz Khalifa and Mally Mal and in the past few days Tyga has revealed that Chris Brown will feature on the second single off the upcoming album.
In an interview with Karen Civil – which you can watch below – he revealed that Chris Brown will feature on "For The Road"  that will drop on Valentine's Day
"My second single is a record with me and Chris [Brown] called 'For the Road.' I'm actually dropping that on Valentine's Day. It's definitely like a 'Deuces'-type vibe. I feel like we haven't put nothing out in a long time, so I wanted to do something that touched that subject matter."
Tyga Interview With Karen Civil (Video)
"Hotel California" is due for release on March 26th 2013.