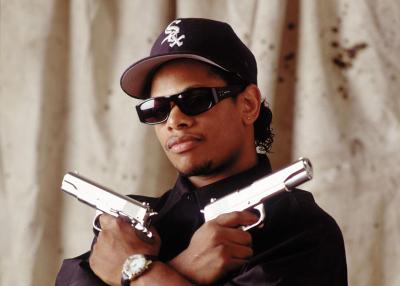 On March 26th 2013 – 18 years to the day since the death of Eazy-E passed away – a new documentary exploring the life of the Godfather of Gansta Rap will be released.
"Ruthless Memories" is a documentary which looks to speak the true life stories and memories of Eric (Eazy-E) Wright from his friends, family and industry insiders.
The film looks to explore Eric's personality and drive from people who knew him before N.W.A and the rise of his Ruthless Empire. From details regarding the break up of the worlds most dangerous group N.W.A,  personal thoughts and feelings from the people who were part of Eazy's daily life, learn just how real and dangerous the Death Row / Ruthless Records beef really was – and also looking at the last days of Eazy-E's life and look into some of the conspiracy theories and rumors regarding his tragic death.
This week a  six-minute trailer has been released where various people are interviewed covering topics including Suge Knight's threats on Eazy E as well as several people expressing scepticism over his cause of death.
The film will feature interviews with Big Man, KJ Mustafa (Eazy E Bodyguards), Steffon, Jerry Heller, MC Ren, B.G. Knocc Out, Derrek Wrigh & Marquise Wright (Eazy's Sons), Cold187um, Marty Thomas, Dirty Red, Yomo, Big A and more. The film will also feature unreleased Eazy-E photos and video clips, original illustrations of E and footage of his old 63 impala.
The Director and Producer of the films – Sergio Hernandez of Ruthless Propaganda – is a life long fan of Eazy and the once great Ruthless Empire (1987-1995). This documentary has been in development for over 17 years and is finally going to be released independently for all the world to enjoy, with a percentage of sales being used to dedicate a memorial plaque for Eazy-E in Compton. Sergio had this to say on it's release…
This film refuses to be a watered down, pop, g rated, rap doc. What we will bring you is that raw, uncensored, ruthless sh*t! Our main goal is to truly document the life and tragic death of our hero, Eazy-E. The documentary is compiled of unreleased video footage and photos. We go back in time and speak with those people who knew Eazy way before the rap game. You will hear up close and personal accounts from Ruthless Family artists, staff, Rivals, Friends and family all in a documentary that will give you a whole different look at the life, personality and legacy of Eric Wright.
While we wait for the release of "Ruthless Memories" on March 26th 2013 – you can watch the trailer below!
Eazy-E Ruthless Memories Documentary Trailer