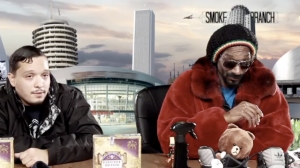 Scoop DeVille and Scoop Dogg sat down for GGN this week to discuss "I Wanna To Rock" and how the song helped their careers.
Scoop even shared that Jay-Z still performs the song all the time, the last time was at his show at the Barclays where he performed it three times in a row.
Snoop explained the importance the record was in New York in terms of his career saying;
"That record was so big when I went to New York, I've been going to New York for 20 something years, I've never had a record other than 'Deep Cover' that impacted New York like 'I Wanna Rock.'"
While as the producer of the song, Scoop reminisced on how the song helped him develop his production skills,
"That just changed my whole perspective on everything I was doing, the sampling of that record, when I got to see that myself and go out there and everybody that was just around me people calling my phone. Busta calling me directly like 'Yo we need to get in right now.' That was life changing for me."
After telling Snoop, "Jay-Z performing 'I Wanna Rock' still to this day at the Barclays like a month and a half ago. He did 'I Wanna Rock' three times in a row," Snoop jokingly sent a message to Hova, "I love you Jay-Z….but that's my…song. I need floor seat to the game…to the Nets vs the Lakers and we'll call it even."
Scoop also discussed his productions on Kendrick Lamar's "Poetic Justice" featuring Drake and "The Recipe" featuring Dr. Dre before Snoop chopped it up with Rebecca Prince about the new Dime of the Month show! Watch it all below!
Snoop DeVille & Snoop Dogg Discuss the Impact of "I Want to Rock" + Dime of the Month (Video)
Ensure you follow GGN via WestFestTV on YouTube.