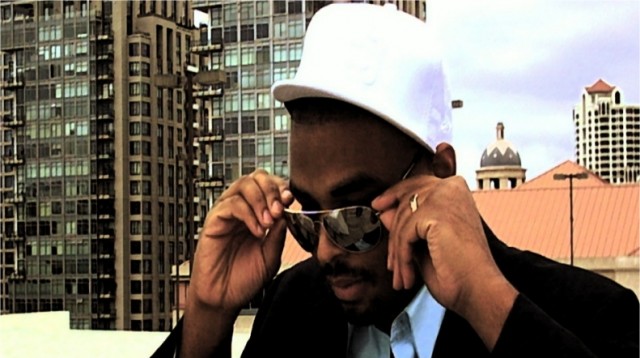 I had to triple check but next month will mark 5 years since we first introduced the Southern California artist Deuce Maxwell to Dubcnn readers.
In the first few updates we promoted his "The Plushcat Sessions" project which featured the singles 
 and 
 featuring 
George Clinton
.
We then interviewed Deuce in January 2009 before switching the focus from his solo material to his collaborative project under the name Nu Magik – with emcee Draz – who rarely record in the same time zone, with Draz residing in Chicago and Deuce Maxwell in Southern California.
The two released their first combined effort called "The Vintage" in 2009 and Draztic discussed in his interview on Dubcnn in November 2010 and from which we dropped the single Summer Magik and its video.
The release was initially only available via iTunes before we dropped The Vintage in full for free download when they announced signing to emerging indie powerhouse HiPNOTT Records to release a planned follow up album called "V2."
After a hiatus Nu MAGIK returned to Dubcnn in February 2011 with the news that HiPNOTT Records will re-release their 2009 debut album The Vintage as a precursor to the duo's upcoming HiPNOTT debut, "V2" which was due early 2012. The news of the re-release of The Vintage allowed us to release A Song for You featuring JusBrea of Deep Rooted and the Jazz Spastiks remix for Much Too Late
Alas the "V2" project has been delayed with no fixed release date but un-daunted the group's producer Deuce Maxwell is determined to keep his production on everyone's mind, and is gearing up to release the follow-up to the aforementioned 2008 jazz/hip-hop, Quik's Groove inspired debut album "The Plushcat Sessions".
The LP – set to be titled "Artwork" – is due for release in the coming months and we've been sent two brand new records for you to enjoy. The first single "Daylight" is a smooth joint perfect for summer and the second track interestingly titled "Fo'Real -Revisited" is a jazzy twist to a Roy Ayers classic – listen below!
Deuce Maxwell – Daylight (Audio)
[raw]
[/raw]
Deuce Maxwell – Fo'Real -Revisited (Audio)
[raw]
[/raw]
The album "Artwork" which is still currently in production sounds like a release to stay tuned for, so check with us at DUBCNN for more info on Deuce Maxwell and his new jazz/hip-hop album "Artwork"