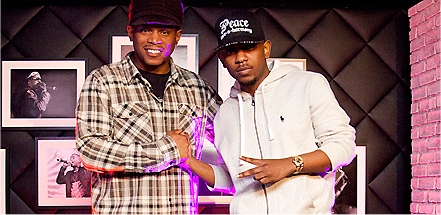 Last night MTV aired their Hottest MCs in the Game VIII on MTV Jams!
In it Dubcnn Alumni Kendrick Lamar was crowned "King Kendrick" after he beat out 2 Chainz for the #1 spot in a unanimous vote.
The list, which also included Meek Mill, Future, A$AP Rocky, Kanye West, Big Sean, Drake, Rick Ross and 2 Chainz, has been causing excitement in the hip-hop community since the #10 pick was revealed on MTV2's "The Week in Jams" last Sunday.
Kendrick had no idea he'd been crowned #1 by the MTV Hip-Hop Brain Trust — until "RapFix Live" host Sway Calloway crashed the green room to break the news; "Kendrick, I know you were told we were about to shoot 'RapFix' today to sit down and do an interview, but that's not necessarily the whole truth," he told K-Dot in a "Punk'd" style expose.<
K.Dot – in his trademark raspy West Coast drawl – responded with;
"That's craaaaaazy. You know what's crazy, we were looking at the years of the different MCs, and we were always like, 'Man, we gotta get on there. We gotta at least get on the list.' But to make it #1, that's a whole 'nother thing."
During the show, Dot gave Sway a one-on-one sit-down and spoke about what brought him to craft the story-driven 
good kid.
 "I would have to say this project probably been in the works [since] the moment I turned 13," the now 25-year-old said of his critically acclaimed and commercially sound debut LP. "It wasn't a six-month process; really a whole life experience. And that's what really made this album: All my mistakes, all my thoughts, all my ideas of being a dreamer, all my homeboys' faults, all the scoldings that my father used to give me. All that made up this album."
Lamar contends that good kid, m.A.A.d city isn't just about him; it's also about his friends who weren't so fortunate to make it out of Compton, California — particularly his buddy YG (not to be confused with the rapper YG).
"A lot of people think this album is about me, but it's about him. It's about my other partners, L Boogs, Lucky [and] Yan Yan, it's about them. I seen the good in 'em. It's just their situations. They weren't blessed the way I was blessed."

Congratulations from the entire dubcnn staff  to the homie Kendrick! Check the full on MTV now.