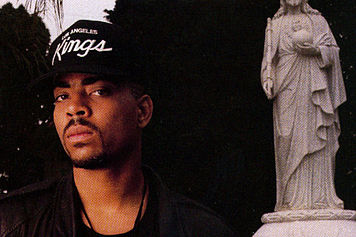 Last year we took a trip back to 1989 and honoured the debut album by The D.O.C. – "No One Can Do It Better" with a Throwback Thursday feature.
In that update we dropped off the iconic third single from the album The Formula  produced by Dr. Dre that sampled Marvin Gaye's "Inner City Blues (Make Me Wanna Holler)."
After today's update about the upcoming Playboy interview with The D.O.C. about his planned new show as well as  discussing working with Dr. Dre, Snoop, Eazy and Tupac we wanted to bring you a Westcoast Wednesday feature to celebrate the a track from the third studio album by The D.O.C.
"Duece" was the second LP  released since the car accident which severely damaged his larynx and as such was more a collaboration album featuring Six2, Nate Dogg, Jazze Pha, MC Ren, Ice Cube, Snoop Dogg, Dr. Dre, MC Breed, Erotic D and more.
The album featured one single "The Shit", which featured MC Ren and Ice Cube, along with Snoop Dogg and Six2. Today we are bringing you that single BUT with a difference – the "OG Version" that featured Xzibit instead of Snoop Dogg that didnt make the final album. Check that and "The Formula" once again below!
The D.O.C. – The Shit (OG Version) (Feat. MC Ren, Ice Cube, Six2 & Xzibit) Audio
[raw]
[/raw]
The D.O.C. – The Formula (Audio)
[raw]
[/raw]
Enjoy, spread the word and lookout for our DAILY WESTCOAST feature launching soon! If for some reason "No One Can Do It Better" is missing from your collection, go cop it again via iTunes