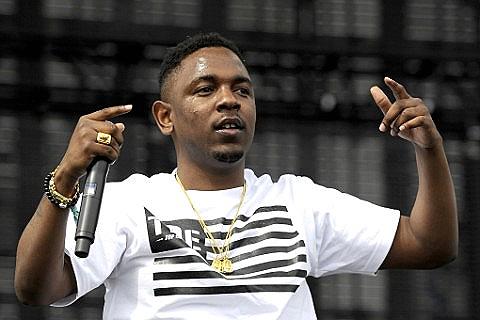 Mr Everywhere aka Kendrick Lamar is at Paid Dues today and has also unveiled his full tour schedule for the coming 12 weeks.
Having rocked Las Vegas last night, today he joins the rest of Black Hippy for the Paid Dues festival with Murs and Guerilla Union before heading out across the country.
The tour-dates cover April, May and June and include over 30 dates, many of which according to The Source will see him joined by Steve Aoki.
See the full list below and once you know when Kendrick is in your locality ensure you get tickets!
03/30 San Bernadino, CA – Paid Dues Festival
04/01 Iowa City, IA – Iowa Memorial Union
04/04 Boca Raton, FL – Florida Atlantic University
04/05 Atlanta, GA – Private
04/06 Atlanta, GA – Georgia State University
04/07 Tallahassee, FL – Florida State
04/09 Orlando, FL – University of Central Florida
04/10 Charlotte, NC – University of North Carolina-Charlotte
04/11 Columbus, OH – Ohio State University
04/12 Auburn Hills, MI – Oakland University (Meadowbrook Music Festival)
04/13 Athens, OH – Ohio University (#fest)
04/14 Buffalo, NY – University of Buffalo
04/17 St. Louis, MO – Chaifetz Arena
04/18 Kent, OH – Kent State University
04/19 Storrs, CT – UConn
04/21 Lowell, MA – Tsongas Center
04/22 State College, PA – Bryce Jordan Center
04/23 Fairfax, VA – Private
04/24 Durham, NC – Duke University
04/25 Williamsburg, VA – William & Mary
04/26 New Britain, CT – Central CT State
04/27 Cortland, NY – SUNY Cortland
04/28 Waltham, MA – Private
04/29 Newark, DE – University of Delaware
04/30 Greensboro, NC – North Carolina A&T
05/01 Fairfield, CT – Fairfield University
05/03 Ithaca, NY – Private
05/04 Watertown, NY – SUNY Jefferson
05/10 New York, NY – Downtown Music Festival
05/11 Columbia, MD – Sweetlife Festival
05/17-19 Gulf Shores, AL – Hangout Beach Music and Arts Festival
06/07 New York, NY – Governors Ball
06/29 Los Angeles, CA – BET Experience
Related Posts: H.O.P.E. Wright Officially "Compton's Finest" With Kendrick Lamar | 50 Cent & Kendrick Lamar Drop "We Up" Video | WATCH: Kendrick Hears Jay-Z BDKMV Remix Verse For First Time | Kendrick Lamar: Dubcnn Interview (March 2013) | Kendrick Lamar Ft. Jay-Z – B*tch Don't Kill My Vibe (Remix)