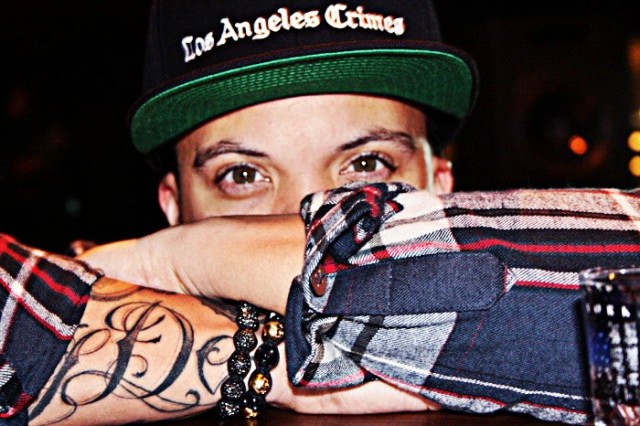 As we've been reporting all year Demrick has been getting ready to release his new project.
Since January we've brought you the Current produced "Class A", Smoke produced by Jim Jonsin and most recently That's Wassup and the "Smoke" Remix with Cypress Hill.
Today we can bring you the free stream and download of "All The Wrong Things 2" – the follow up to his 2012 All The Wrong Things release alongside Production duo The Makerz (Nigel Starr and Runway Star), as well as the #HeadsUp and Neva LOOK Back! EP projects.
This time around the production is handled mainly by super producer Jim Jonsin and his Rebel Rock production team, Fintak & Zac and Danny Morris. Also contributing is producer Current (Engineer for Kid Cudi's Indicud album) & new comer Mike One. All The Wrong Things 2 has 16 tracks and features Hip Hop legends Cypress Hill & the amazing vocalist Leroy Sanchez. Make sure you check out the tracklist and download link below!
Demrick – All The Wrong Things 2 (Audio)
[raw]
[/raw]

Demrick – All The Wrong Things 2 (Tracklist)
01) Go In [Prod. By Danny Morris]
02) That's Wassup [Prod. By Mike One]
03) Going UP [Prod. By Mike One]
04) Graduated [Prod. By Finatik & Zac]
05) Float [Prod. By Jim Jonsin, Finatik & Zac]
06) Addicted (Feat. Leroy Sanchez) [Prod. By Finatik & Zac]
07) Can I Live [Prod. By Finatik & Zac]
08) Class A [Prod. By Current]
09) Dream About It [Prod. By Current]
10) Smoke [Prod. By Jim Jonsin]
11) Perfect World [Prod. By Jim Jonsin]
12) Life We Live [Prod. By Danny Morris]
13) Runway [Prod. By Jim Jonsin]
14) Might Die 2morrow [Prod. By Finatik & Zac]
15) Pray For Me [Prod. By Mike One]
16) Smoke (Remix) (Feat. Cypress Hill) [Prod. By Jim Jonsin]
Demrick – All The Wrong Things 2  (Download)