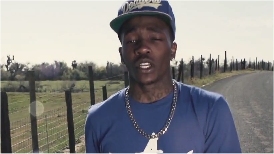 Dubcnn regular Dizzy Wright continues his relentless grind with yet another video release today!
Since being announced as the People's Champ vote winner for the 2013 XXL Freshmen he's shown no sign of slowing down!
Prior to that news he'd dropped back to back visuals for the records "Hotel Stripper" & "Verbalizing" and also linked with fellow up-and-comer Joey Bada$$ for the record "Maintain," a track that will be featured on Dizzy's upcoming, yet-to-be-titled mixtape.
In our last update we announced that Dizzy and his Funk Volume movement are have started the "Still Movin'" campaign which urges fans and supporters of Dizzy and the label to pursue the same kind of progress, no matter what field, that Dizzy has been focused on for the past two years. With the news he released the "Still Movin'" video as well as a line of Still Movin' t-shirts, hoodies, and hats, available for purchase via the Funk Volume merch store.
Today he's releasing another new video, this time for the title track of his late 2012 EP, The First Agreement. The video, directed by On Point Films and filmed predominately in Lindsay, California, sees Dizzy open up over the track's laid-back guitar-driven beat – watch it below!
Dizzy Wright – The First Agreement (Feat. Nikkiya & Manny Scott) Video