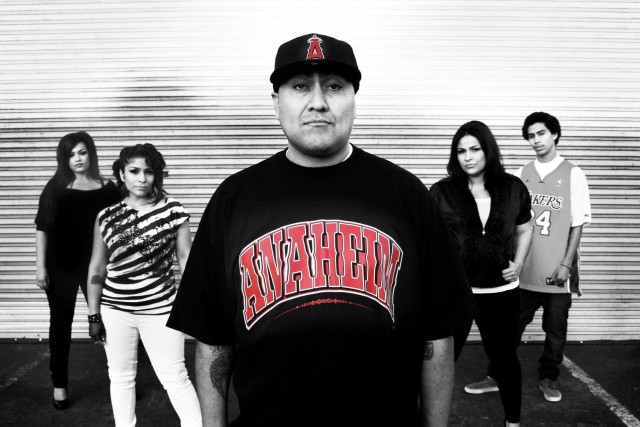 Dr. Robert 'Battle Ax' Ornelas front man for Latin hip-hop group The S.O.G Crew has found himself in the arena of politics.
Ornelas ran as vice presidential candidate under the American Independent Party election year 2012.
The AIP was excited about the stir Ornelas brought to the table so much that they have encouraged him to run for Lt Governor of California. Stating that despite being independent Ornelas has a great chance of winning! A rapper for Lt. Governor? Yes! Ornelas partners with Dr. Robert Newman current California Governor hopeful. They plan on working together throughout their campaign to combine forces in the urban arena and world of business.
Ornelas is currently on The S.O.G Crew's Let's Change the World Tour – which we reported on back in February – and are promoting their latest single 'Let's Change the World' to be released May 10th. As a youth activist Ornelas travels the U.S with an inspiring message of hope, love and peace. People are most inspired by the fact that he is a candidate for Lt. Governor of California. On April 26th as part of the Let's Change the World Tour Ornelas will make a formal announcement of his run for Lt. Governor during CES citywide outreach. At 10:30 a.m. many will gather at the Lincoln Memorial in Washington D.C. for a performance with The S.O.G Crew, from there they will march to the Federal Reserve and present the Declaration of Monetary Justice to Fed officials.
Back home Dr. Robert Newman and Dr. Ornelas wife Dr. Melissa Ornelas had attended the Pacific Justice Institute's Celebration of Justice last Saturday evening, April 13, at Disney's Grand Californian Hotel in Anaheim, California. The special guest speaker was John Bolton, former United States Ambassador to the United Nations. The Pacific Justice Institute is a non-profit, legal defense organization specializing in the defense of religious freedom, parental rights, and other civil liberties. Pacific Justice Institute works diligently, without charge, to provide their clients with all the legal support they need. It's president, Brad Dacus, founded it, Esq. All proceeds were used to promote justice, protect family, and preserve faith.
For those not familiar with the long established hip hop group S.O.G. Crew – they first appeared on Dubcnn in 2011.
In May of that year we updated you on their latest project [see S.O.G. Crew Drop "Where Legends Are Born" On May 3rd] entitled "Where Legends Are Born".
Within those updates the international urban group from Anaheim, CA released the single I Can Finally Breathe as well as the I Can Finally Breath Music Video.
Enjoy the new music and ensure you drop some feedback on our Twitter.