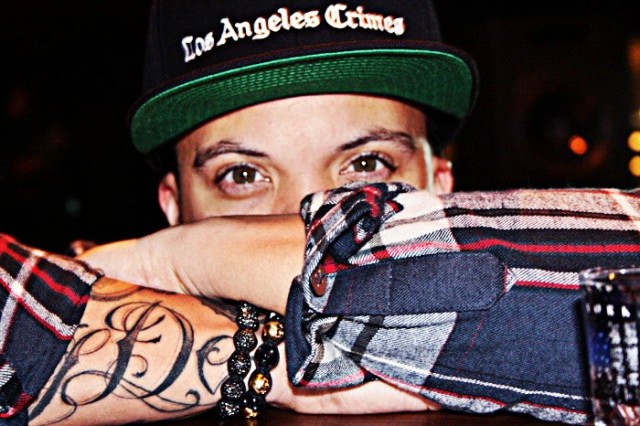 Demrick (formerly known as Young De) put it perfectly when he said that sometimes you just have to follow your gut.
You may have seen him on tour with Xzibit or working B-Real and Cypress Hill. Demrick is always in GO mode.
The Dubcnn.com vet and highly talented emcee sat down with Javon after some hits and misses. Demrick just released his new mixtape, All The Wrong Things 2 and it has already garnered some high praise. Despite being told that this project was too good to put out for free, De followed his gut and released the Makerz assisted project to the masses.
Take a few minutes and learn why the 'Power of the Play button' is so important and what Demrick is hoping to accomplish with this new offering.
…………………………………………………………………………………
Interview was done in April 2013.
Questions Asked By: Javon Adams
Listen To The Interview Audio Below or 

1. Download Here
…………………………………………………………………………………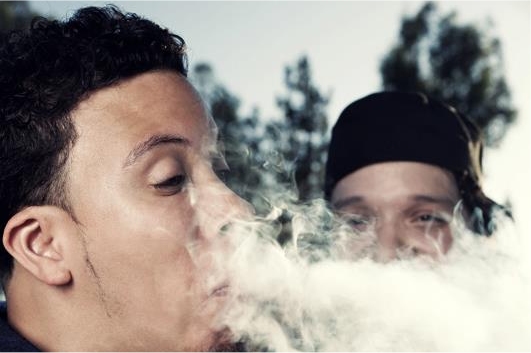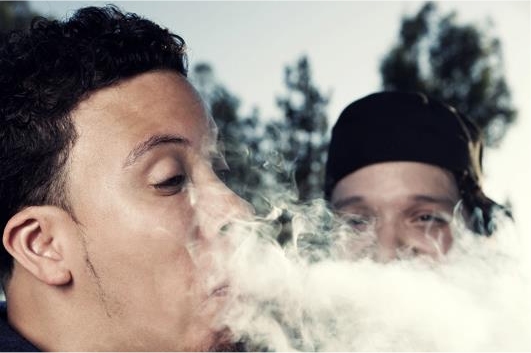 …………………………………………………………………………………
Related Media
Demrick – All The Wrong Things 2 (Mixtape)
Demrick – All The Wrong Things (Mixtape)
Demrick – #HeadsUp
Demrick – Neva LOOK Back! EP
…………………………………………………………………………………
Interview Audio
[raw]
[/raw]
Dubcnn: Dubcnn.com! This gentleman, I mean he got skill, he got hustle! Sometimes we can him 'Young De', sometimes we call him 'DEMRICK'!
Demrick: DEMRICK!
Dubcnn: We got him in the building. Man what's going on with you?
Demrick: Man, I'm chilling man. I feel like a Dubcnn alumni bro! Like I've really, really been fucking with this site for a long time man. From my very first project that I did, or from the podcast that I used to have on here, to just everything you know. I see people, like I've been to Amsterdam kicking it with Nima, you know me and Rud talk all time, you know me and you. I feel like I know everyone that's a part of the site, you know I feel like its extended family.
Dubcnn: Indeed, well you know I'm just glad that to…we've had hit and misses and everything like that to link up man. We were kinda chatting before I hit the record button, and you said something that I want to ask you about; because you're getting with the new project – with 'All The Wrong Things 2' – really getting a lot of good press behind that. What you said was 'the most powerful thing in the world is the play button' – talk about that man.
Demrick: Yeah, its having the right body of work and just the stuff. I was telling you about my post that they posted up on RollingStone.com; a piece that they did that's usually reserved for just y'know big artists and stuff like. For them to take a song off my new project 'All The Wrong Things 2' ,and break it down and tell people why they should check me out, is just like its mind-blowing man. Its just from people listening to the project man, and being moved by the music. That's when I really, really understood the power of the play button you know. You can have all the connections in the world, you can know everybody under the sun; but it don't matter man. The music – if people are moved by it, if fans are moved by it, and all these people that are involved in site like yours, and even all the way up y'know. Everybody's just fans of music y'know, that's why we all do it right?
So you know, you put out the right stuff and I'm feeling the energy around. I'm so excited about this tape, but to be honest I'm  not surprised because I worked hard on this tape. I out a lot into it y'know thought-wise, and I had it done originally about two months ago and y'know I held off while I was playing it to a couple of people, and I wasn't really getting the results I wanted, y'know as far as not getting back what I wanted from it. So I went back to the lab, and actually flew to Florida, and stayed in Florida. Jim Jonsin has a studio out there, I just stayed in the studio for almost a month man, and just grinding it and did a shit ton of new music. Y'know with him there and with his team there. Everybody y'know, Fanatic & Zach, working with Danny Morrison, and Jim himself. Y'know just making the right music y'know!
Dubcnn: I want to talk about that for second. So how do you as an artist, when you feel that the project is strong enough, where is that fine line between taking the construction criticism and maybe going back in the lab like you did, or saying 'I feel good, I'm going to put it out, I'll ride with it either way'?
Demrick: Yeah I think it has to go with just you loving every record. Like if you pick any song off of that album, excuse me the mixtape; any time you ask me why I put that song on, I've got an exact reason why I did everything on this tape. Nothing is up to chance y'know, I have a story behind every song, and the right feeling behind each song; and I think that's why it's resonating with people. I think that's why they're fucking with me.
Dubcnn: OK, I like that.
Demrick: That's how you know!
Dubcnn: So talk about in terms of when you put a project like this out. I'm an NBA guy so I always like to talk about goals and plans and what not. So what are your goals, how will you know – and obviously you're getting a lot of the press now – but how will you know that this project is a success. Is there any certain measurable, or something that y'know 'if I attain this, then I know that it was a success'?
Demrick: Well I think the first thing I wanted to attain was me being happy with it, and it being received by my core fans the right way; so those two goals have definitely already been achieved. But something that I really set out for this thing, one of the goals that I wanted to get was off of the blog sites and into DJ's seratos was one thing that I wanted. I want to be walking into events and be hearing my music, and people like that. And I wanted to get a bunch of new fans and new opportunities, and they're coming so to me its already a success because I love it. So everything that its doing now at this point is just a blessing. I'm riding the wave man.
Dubcnn: So is that a challenge ? Making that jump, or that transition so to speak, from the blog sites to get it really in the DJ's hands and get their support. Is there a lot of politics involved? Is it going as well as you'd hoped? Talk about that aspect of it.
Demrick: Well the project's only been out a week, so I feel like that's yet to be…we're still doing that. But y'know I'm seeing myself coming up on DJ Pools and I see a lot of DJs hitting me up for drops. Y'know I just went to Q104.7 last night – that's out in LA – and y'know went and got with them, and y'know blasted off one of the records, Graduated. Y'know I'm happy with the way that's its moving. Y'know I did something with Bootleg Kev that's going to air Sunday. I feel like, for real, that everything's going like… I'm telling you man, I visualised this project since…I worked with Jim for a while, like him and his team, off and on. Meaning off and on like I would go there for a month, and then I'd come back, then I'd go there for a month y'know when I'm not on tour with X. When I wasn't working on anything, y'know with ciphers and stuff like that, I was consistently working with my team – Mike One and Current, and just everybody – all my homies just creating music. We were working on a lot of this stuff, y'know Jim [Jonsin] and them sent me a lot of shit to work on, so I had a feeling that this was going to be good, so I'm happy.
Dubcnn: OK, so let folks know where they can get it – the project. I just downloaded it and I'm gonna be putting it in and bumping it and everything. My tastemaker – because I do a little bit of music too – is I let my younger sons listen to it, my music. They listen to some of the hardcore stuff and all that stuff. Musical things and the things that I've been hearing, I really like what you've done, what I've heard so far. Its an artists project and I really like that in terms of not being able to pigeon-hole you into one thing. I think you did a really good job on it.
Demrick: Thank you bro. Well this project was really about showing people who I am y'know. Just how I'm gonna move forward y'know. The title "All the Wrong Things 2" **INAUDIBLE** Really it's just like what everybody always told me, 'you're doing all the wrong things'. Telling you like 'you're supposed to be focusing on this, you're supposed to be focusing on that'. When I was fucking with the streets all the time, then it was like 'fuck that, you ain't gonna be no rapper' or whatever people would say, 'you're doing all the wrong things with your life y'know', and just making it work for me. Even into everything that's been going on now, like 'you shouldn't have put this out' or 'you should wait for this and do this' and sit down and really like sitting there y'know. Shout out to DJ Skee man, but I sat down with him and he straight-up just told me the project is just too good to put out for free. He told me don't put it out y'know. But I put it out anyway because I felt like it was a necessity for people to hear it because I felt like I didn't stamp my fanbase yet and show them what I want y'know.
Dubcnn: So let them know where they can get the project and everything so they can support, and where they can stay in tune to whats going on with you and your future endeavours man.
Demrick: Hey man, shit, get at Dubcnn! C'mon man! Y'all can get it right there! Y'know and I just wanna say, like, the way that its coming and rolling right now, I'm definitely feeling the energy. So y'know I appreciate y'all and us finally getting this interview done y'know.
Dubcnn: Yes sir! So I'm looking forward to the next one and I appreciate your time man.