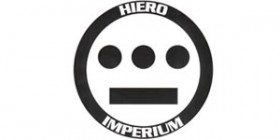 In their latest video for the track "Gun Fever," edited by group member Casual, The Hieroglyphics address America's ongoing fetishization of violence, particularly the mainstream media's current obsession with guns.
The track was originally "recorded in the summer of 2011, pre-Trayvon Martin, pre-Newtown" and was "expressing what was going on in our neighborhood," Tajai recalls.
Though he believes violent crime in general has decreased in Oakland and perhaps the rest of the country as well, Tajai acknowledges how his own personal relationship to a larger society that romanticizes guns, violence and destruction has changed over time.
"I feel safer, but I'm grown," he states. "As a kid, there was a lot of fear and fascination with violence…our national anthem is about bombs…the glorification of violence is par for the course in American culture."
"Gun Fever" is also available on iTunes.
The Hieroglyphics – Gun Fever Ft. Pep Love, Tajai, Casual, A Plus & Del The Funky Homosapien
Don't forget you can still download Hieroglyphics – Summer Tour Mixtape (Mixed By DJ Icewater).