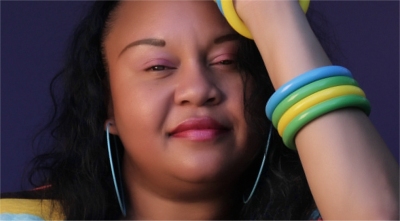 LA-based modern funk singer Moniquea has featured on Dubcnn before, alongside XL Middleton for his You Can't Train Me video last year.
Crown City signee Moniquea has recently released her solo track "I Don't Wanna Get Used To It," a tune which evokes memories of the classic 80's boogie funk sound.
The track, laced by producers Eddy Funkster, resident DJ at Dam Funk's world-renowned Funkmosphere club, and XL Middleton, has already garnered radio play from LA's Soundwaves Radio (KPFK 90.7 FM) plus worldwide spins from internet radio shows in France, Holland, and all over Europe.
The sound Moniquea (pronounced "Monika") brings to the table is modern funk, smoothed out by her R&B sensibilities and silky vocal tone. Already, her and musical conspirator XL Middleton have been promoting this release and her forthcoming album with a slew of live performances, including one at Funkmosphere in March 2013 which received praise from Dam Funk himself, and a live set at San Francisco's Sweater Funk weekly last December, which SF founder Jon Blunck called one of his "favorite nights" since starting the club several years ago.
In addition to the radio play the song has already received, Moniquea plans to tour Europe with XL & Eddy Funkster in the fall of this year, by which time her album is expected to be released. For now, there is also a music video, directed by Brandon Mahlberg (Mahlberg Studios) – check it below and then support the single via iTunes.
Moniquea – I Don't Wanna Get Used to It (Video)
Enjoy and ensure you cop "I Don't Wanna Get Used To It" via iTunes. Follow XL Middleton and Moniquea on Twitter.