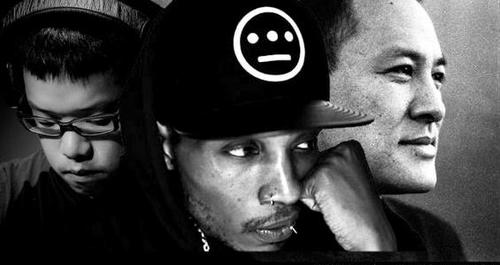 It's taken 10 years longer than fans hoped but after 13 years Deltron 3030 are almost ready to release their long awaited second album.
For those who don't know, the alternative hip hop super-group comprises of of producer Dan the Automator, rapper Del the Funky Homosapien and Kid Koala.
This week the trio – having been talking about it's existence for over 8 years now – have confirmed the album' is close to release by dropping the lead single from the LP, "City Rising From the Ashes."
The song is both the lead single from the "Event II" album, as well as the title track of a three-track EP which will drop on July 20th.
Listen to "City Rising From the Ashes" below and get ready for what is sure to be a classic album!
Deltron 3030 – City Rising From the Ashes (Audio)
[raw]
[/raw]
For those who missed Deltron 3030 in 2000 then you should check out this unique LP. The rap opera concept album was set in a dystopian year 3030 and casts Del in the role of Deltron Zero, a disillusioned mech soldier and interplanetary computer prodigy rebelling against a 31st century New World Order. In a world where evil oligarchs suppress both human rights and hip-hop, Del fights rap battles against a series of foes, becoming Galactic Rhyme Federation Champion. The album achieve significant critical as well as featuring contributions from Damon Albarn, which then served as the basis for Gorillaz' self-titled debut.