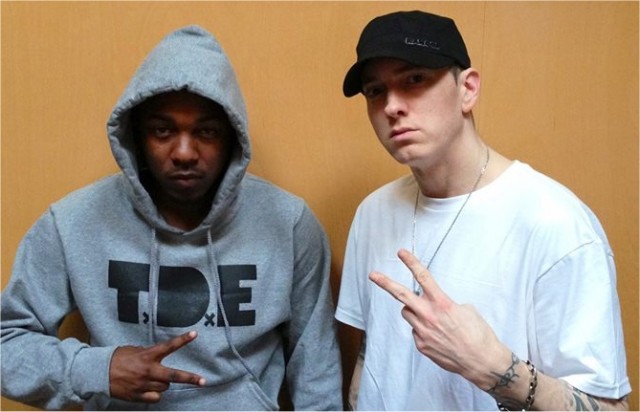 Earlier this month photos emerged online of Kendrick Lamar and the rest of Black Hippy in the studio with Eminem.
In an MTV interview today Kendrick Lamar said that while he and Black Hippy didn't record any music when they hooked up in a Detroit studio, they did chop it up.
K-Dot on how it came about;
"It was unexpected, I just went to Detroit and I had a show out there and I got a call saying, 'Em [wants you] to come to the studio, come to the studio fast. That was me actually just meeting and greeting, I bumped heads with Eminem [in the past], but it was very brief, that was my first time really chopping it up with him, getting to ask all the questions I wanted to ask him."
Kendrick said he spoke with Em as a fan first and foremost and got to ask questions on a number of topics, including his 2002 film "8 Mile."
"He gave me straightforward answers and really just gave me the game on how to stay creative as possible.
K-Dot went on to explain the feedback he got from Em about his critically acclaimed good kid, m.A.A.d city LP.
"He basically told me albums haven't been done like that in a long time from a new artist, and he can appreciate how I structured the whole thing."
In the end the rap veteran left the TDE star with some sound advice that many before him have fallen foul of;
"Everybody knows Eminem's penmanship, it's insane. For the most part, he focused on that as much as possible. That was the game that he was giving me and my crew: always stay focused on the craft and not indulge in all the other crazy stuff that comes around."