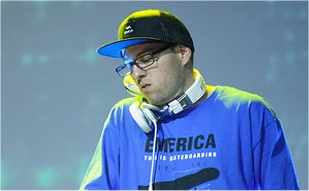 Southern California producer and DJ LDontheCut first appeared on DubCNN for his production on the J. King LP "Next To Bat" last year.
Born Leigh Snyder, LD (aka LDontheCut) has been in the game since 2002 when he founded Technicali, a DJ crew that quickly turned into a movement of musical talent.
In recent weeks the talented producer has confirmed that he will released an album in November 2013 titled "Patiently Anxious" due on Technicali Sound.
Today we can bring you the first single "Look In the Mirror" – a funky, bass driven banger featuring west coast notables Chali 2na (Jurassic 5), Aceyalone, Rakaa Iriscience (Dilated Peoples), and Ariano.
LD, who has been touring with globe with reggae-rock group Sublime with Rome since 2012 has been part of the vibrant Los Angeles hip-hop scene for even longer and when asked about the features on the single he said;
"I've known Chali 2na for a while now, in 2006 he did a verse on a project called "A Thin Line" by a group i'm in called "LD & Ariano". I spun for Rakaa Iriscience and Evidence in place of Babu a few years back. They are all artists I admire."
Checkout the single below and ensure you support it on iTunes.
LDontheCut – Look In The Mirror (Feat. Chali 2na, Aceyalone, Rakaa Iriscience, & Ariano) Audio

[raw]
[/raw]
The visuals to "Look In the Mirror" will be released in a few weeks right here on DubCNN and LD's November LP "Patiently Anxious" will feature Craig G, Akil (J5), Pace Won (Outsidaz), Medusa, and more. Stay tuned!