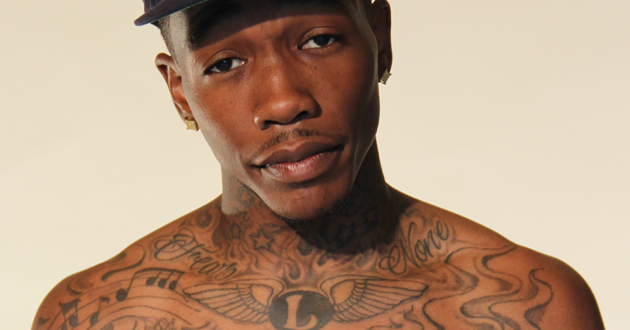 Last week we brought you the covers and tracklist for the highly anticipated new mixtape, "The Golden Age," from Funk Volume rapper Dizzy Wright.
Today we can bring you the full 22-track tape that features an impressive roster of guest rappers and producers, including Funk Volume family members Hopsin, Jarren Benton, SwizZz, and DJ Hoppa.
Verses from Joey Bada$$, Wyclef, Logic, Kirk Knight, Tory Lanez, Honey Cocaine, Kid Ink, SupaHotBeats, Cardo, AF Supreme, and many more can also be found on the tape. The mixtape comes on the heels of an incredibly successful year that saw Dizzy named as one of XXL Magazine's Freshmen Class of 2013, and performing non-stop doing tours and festival dates around the country and abroad.
The mixtape draws inspiration from the storytelling element of the 90's, an era to which the title of the tape refers – Dizzy explains;
"I wanted to bring back the 90s. I feel like people appreciated music a little more in the past. In 2013 our flow should be developed and mixed with substance. We should be talking about something, not wasting any bars. The most important thing is substance."
Dizzy also confidently asserts that he and his team have raised the bar across all aspects of his new material;
"The production is better [on The Golden Age]. The team of people around me have grown. The producers have learned from what we've done before and they've stepped it up. That puts me on a level to just talk that shit.It's important to be you, to talk about the shit you know about, whatever that is, people should grow to be something better, not just an image. You are teaching other people. I believe in being a man and wanting to be better."
Stream or download the full mixtape below courtesy of DubCNN.com – then drop your comments!
Dizzy Wright – The Golden Age (Mixtape)

[raw]
[/raw]
Dizzy Wright – The Golden Age (Mixtape) Tracklist
01) 2 Wings and a Crown (Prod DJ Hoppa) (Feat. Irv Da Phenom)
02) The Flavor (Prod 6ix) (Feat. SwizZz)
03) Maintain (Prod DJ Hoppa) (Feat. Joey Badass)
04) Progression (Prod Hitman)
05) The Perspective (Prod Aktion) (Feat. Chel'le)
06) Killem With Kindness (Prod AF Supreme)
07) Welcome Home (Prod JReezy) (Feat. Arima Ederra)
08) Bout That Life (Prod 6ix) (Feat. Hopsin)
09) Still Movin (Prod JReezy)
10) Fashion (Prod Nicholas Pugach) (Feat. Kid Ink & Honey Cocaine)
11) Cant Stop Wont Stop (Prod SupaHotBeats)
12) Step Yo Game Up (Prod Kato) (Feat. Jarren Benton & Tory Lanez)
13) B.T.T. (Prod DJ Hoppa)
14) Untouchable (Prod DJ Hoppa) (Feat. Logic & Kirk Knight)
15) Tellem My Name (Prod Rikio)
16) World Peace (Prod Rikio)
17) Hope You Have a Good Day (Prod Rikio)
18) Your Type(Prod Cardo On The Beat) (Feat. Chel'le)
19) Brodee Bro (Prod Cardo On The Beat) (Feat. Capo)
20) The Golden Ghetto (Prod Reuben Lewis)
21) We Turned Out Alright (Prod Wyclef & Sedeck Jean) (Feat. Wyclef)
22) New History (Prod Rikio)