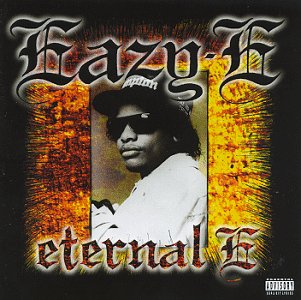 Today – September 7th – would've been the 50th birthday of Eric "Eazy-E" Wright known now to legions of fans as "The Godfather Of Gangsta Rap."
The legendary founder of Ruthless Records and pioneering Gangsta Rap group N.W.A. died on March 26, 1995, aged only 31.
Despite limited posthumous music releases, his legacy has endured for the last 20 years thanks to a loyal fanbase and his undeniable impact on Hip-Hop as a whole. Today, as we reported back in May, Eazy-E will appear on stage once again thanks to the power of 3D technology as a "hologram" alongside Ol' Dirty Bastard at the 10th Rock The Bells festival in Los Angeles.
As our own tribute to the legend on this landmark date we are bringing you his ""Greatest Hits" album, released as "Eternal E" on November 28, 1995 just months after his untimely death.
Today take a moment to remember Eazy-E whether you are at work or on the go by listening to "Eternal E" below.
[raw]
[/raw]
01) Boyz-n-the-Hood (Remix)
02) 8 Ball (Feat. N.W.A)
03) Eazy-Duz-It
04) Eazy-er Said Than Dunn
05) No More ?'s
06) We Want Eazy (Feat. Dr. Dre, MC Ren)
07) Nobody Move
08) Radio
09) Only If You Want It
10) Neighborhood Sniper
11) I'd Rather Fuck You (Feat. N.W.A. & CPO Boss Hogg)
12) Automobile (Feat. N.W.A.)
13) Niggaz My Height Don't Fight
14) Eazy Street
R.I.P. Eazy-E (1963-1995)