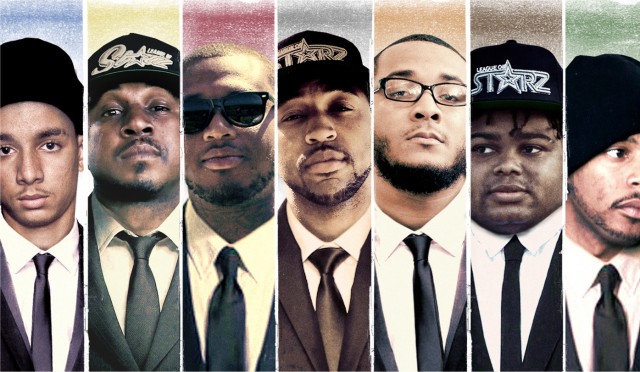 Westcoast platinum production group League Of Starz have today released their debut project titled "LOS.FM" – available via DubCNN.com
LOS are best known for their platinum records with Tyga ('I'm Faded') and E-40 ('Function'), and Problem's break-through single "Like Whaaat."
Lately the talented producers have worked with 2 Chainz and Wale but have been working on their own project, "LOS.FM," to further showcase their production talents with the help of a few close industry peers.
The project is stacked with hits and features an incredible endorsing intro from Snoop Dogg as well as musical collaborations with 2 Chainz, Wiz Khalifa, Jadakiss, Tyga, Problem, Iamsu, The Game, Trae Tha Truth, Clyde Carson, Jay Rock, Sage The Gemini, Bad Lucc, E-40, Too Short, and new R&B sensation Eric Bellinger who is featured on their first single that we dropped last month titled, "I Don't Want Her" along with Problem.
We can now bring you the FREE download and stream of the 18 track project below, enjoy and drop a comment!
League Of Starz – LOS.FM (Mixtape)

[raw]
[/raw]
League Of Starz – LOS.FM (Tracklist)
01) Wake Up (Intro) – Snoop Dogg
02) Pay$tyle – IAMSU
03) Wanna Go – Sage The Gemini
04) Hijack – Tyga (Feat. 2 Chainz)
05) In The Hood – Clyde Carson (Feat. Jay Rock)
06) Who Got It – Problem (Feat. Durrough)
07) Beast – Bad Lucc (Feat. IAMSU)
08) I Don't Want her – Eric Bellinger (Feat. Problem)
09) Put It On P's – Bad Seed (Feat. The Game)
10) Living – 2 Chainz (Feat. IAMSU)
11) Maxx Out – Casey Veggies, Problem, Dizzy Wright)
12) Look – Nelly, Problem, Tyga
13) Super Sport – G. Malone (Feat. Too Short)
14) All That – Skeme
15) 1 Up – Trae The Truth, Wiz Khalifa, Jadakiss, Hood Boss
16) Monster – Sleepy D, Problem, D-Lo
17) Uncle Earl (Interlude) – E-40
18) Over Here – Eric Bellinger (Feat. E-40)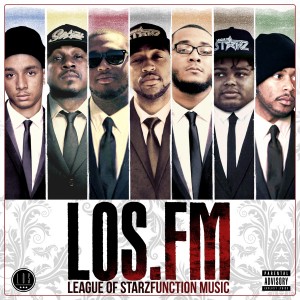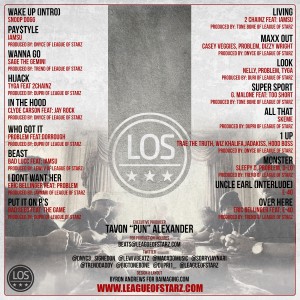 Enjoy and tell the League Of Starz what you think via Twitter.