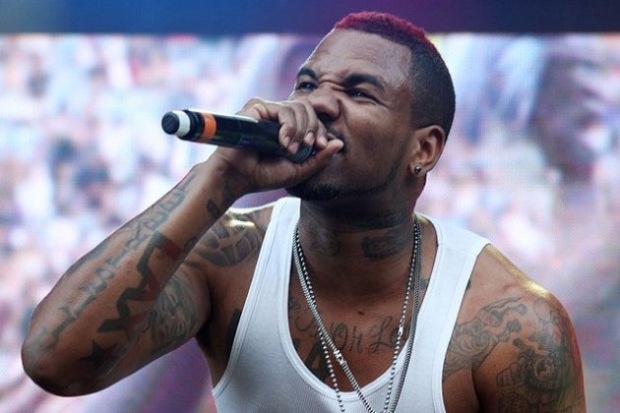 Game continues his busy week with the release of a bonus track from "Operation Kill Everything" that also features Scarface.
He dropped his tagged free new mixtape "Operation Kill Everything" via DubCNN last week and has now released the untagged Deluxe Edition on iTunes.
The Deluxe Edition features a digital booklet and an exclusive bonus track featuring Scarface, called "Hollywood." On the track, Game disses 50 Cent with the
"Hub City thugs wit me, buck 50. Reunite with G-Unit, bitch fuck 50."
You can checkout the bonus track below before you cop the untagged Deluxe Edition of "Operation Kill Everything" via iTunes.
The Game – Hollywood (Feat. Scarface) Audio

[raw]
[/raw]
The free version of project from the Compton emcee, was made available for stream and free download via DubCNN.com and hosted by DJ Skee. It includes features from Chris Brown, Diddy, Lil Wayne, Nipsey Hussle, Skeme, Too Short, Schoolboy Q, Clyde Carson, Problem and many more! The production on the project comes from Cool and Dre, Amadeus, DJ Mustard, League Of Starz, ShoNuff and others!
While you digest the news of Game signing to Young Money/Cash Money Records ensure you spin or download "Operation Kill Everything" via DubCNN below!
DJ Skee Presents: The Game – OKE (Operation Kill Everything) (Mixtape)

[raw]
[/raw]
Game – OKE (Operation Kill Everything) Tracklist
01) Kill Everything (Feat. Diddy) (Prod by The Twin Towerz)
02) Life Is But a Dream (Feat. Elijah Blake) (Prod. by V Don)
03) Astronaut Pussy – Welcome to California (Feat. Skeme, Too Short, Schoolboy Q & Stacy Barthe) (Prod. by Pops & Pilz)
04) In The City (Feat. Fred The Godson & Sam Hook) (Prod. by Sap)
05) F.I.V.E. (Feat. Chris Brown, Lil Wayne) (Prod by Sap, Cool and Dre)
06) Love On Fire (Feat. Shontelle) (Prod. by Amadeus)
07) Breakfast With Al Pacino (Prod. by Cool & Dre)
08) Oh Lord (Feat. Shontelle) (Prod. by Pops)
09) TD (Feat. Problem (Prod. by League Of Starz)
10) Same Hoes (Feat. TY$ Nipsey Hussle) (Prod. by DJ Mustard)
11) Turn Down For What (Feat. Problem Clyde Carson) (Prod. by League Of Starz)
12) Fuck a Bitch (Feat. Nipsey Hussle, Joe Moses Elijah Blake)
13) Compton (Feat. Stat Quo) (Prod. by Sap)
14) Swerve (Prod. by Pops 2oolman)
15) Super Throwed (Feat. Juicy J) (Prod. by Sap)
16) Maybe In Another Life (Feat. K Roosevelt) (Prod. by Pops)
17) You Don't Know (Prod. Bird Keys)
18) Just So You Know (Prod. Big Duke x JPDidThis1 Yonny)
19) Pour Up Remix (Feat. Clyde Carson, Jeezy) (Prod by ShoNuff)