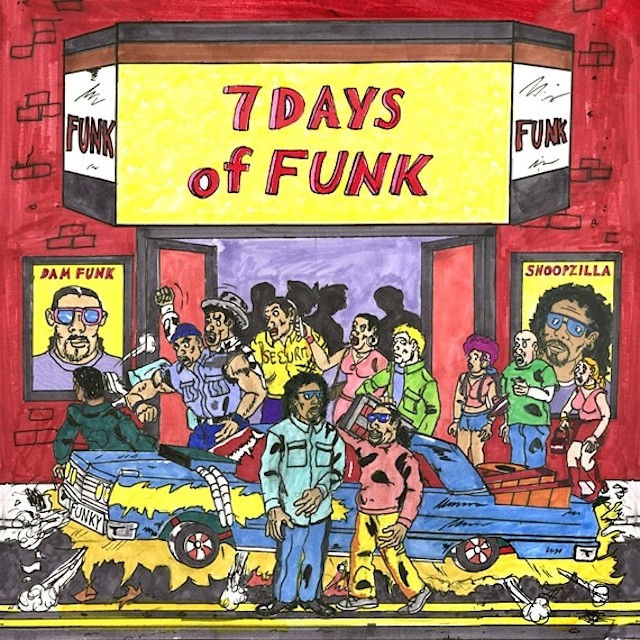 Back in October we confirmed that a long-rumoured Snoop Dogg and Dam-Funk collaboration project was in fact happening!
In that update we dropped the single "Faden Away" and announced that the "7 Days Of Funk" EP was set to drop via Stones Throw Records later this year.
Dam-Funk – who also laced the Polyester The Saint and Kurupt joint called "Late Night Dippin'" in the summer – has been busy laying down smooth synth driven instrumentals for Snoop to rhyme over and this EP most definitely delivered what fans were hoping.
Snoop recently spoke on the release; "We're the babies of the Mothership. I've had funk influences in my music my whole career. Dam-Funk is cold. He's keeping the funk alive and I knew I had to get down with him."
Dam-Funk went on to say how the ccollaborationwas pure chemistry; "Snoop knew what I was thinking without me having to articulate it, that's how you know when you gel artistically with someone. These beats were made for him and he laid down some of the smoothest harmonies and melodies I've ever heard. It's Hip Hop, but you can also hear what we grew up on, from Zapp to Evelyn 'Champagne' King and Patrice Rushen." 
The project features appearances from Daz Dillinger and Kurupt as well as Steve Arrington. Stream the EP below and drop a comment!
Snoop Dogg & Dam-Funk – 7 Days Of Funk (Stream)

[raw]
[/raw]
Snoop Dogg & Dam-Funk – 7 Days Of Funk (Tracklist)
01) Hit Da Pavement
02) Let It Go
03) Faden Away
04) 1Question? (Feat. Steve Arrington)
05) Ride (Feat. Kurupt)
06) Do My Thang
07) I'll Be There 4U
08) Systamatic (Feat. Tha Dogg Pound) [Bonus]
Ensure you cop "7 Days Of Funk" via Stones Throw Records now!