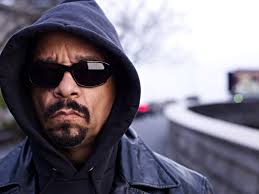 The west coast legend has teamed up The Paragon Collective for a podcast titled "Ice-T: Final Level", which premieres on January 7th.
"We believe Ice has one of the most earnest and distinct voices in the entertainment industry," said a rep for Paragon. "Whether he's rapping, acting or talking about the First Amendment, his fans appreciate what he has to say and what he stands for."
The show will be co-hosted by Ice T's longtime manager Mick Benzo with two podcasts being produced monthly, focusing on current affairs and including "special guest interviews from the entertainment world" as well as listener call-ins.
"Podcasting is a great next step for me and my guy. It's an uncensored medium, and it's a direct connection with my fans," says Ice. "Mick Benzo and I can explore any topic we're interested in without restrictions, from video games to philosophy to rap and rock… I also don't have to leave my crib."
The first episode will air on Tuesday, January 7th via his website and iTunes. T will be discussing his experiences with fans who "cannot separate his rap persona from his character on Law & Order: SVU".
In related news Body Count are working on a new album set to be released in 2014.