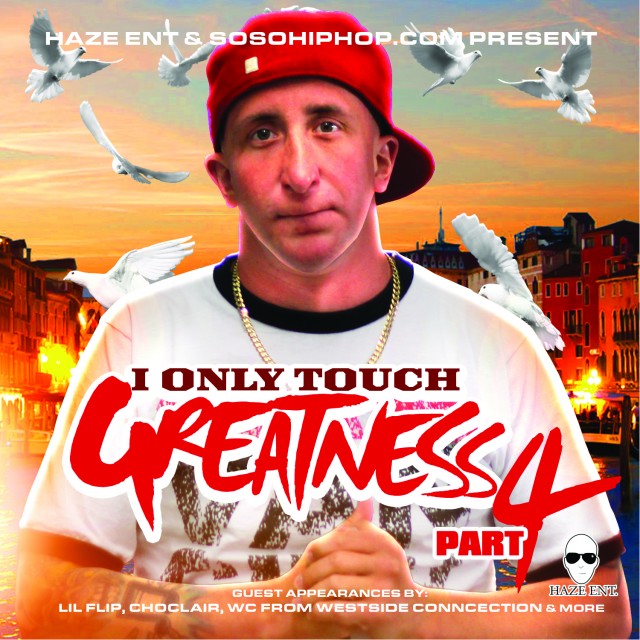 Back in 2010 Haze Ent hooked up with DJ Ill Will to release the California Dreamin' mixtape for free download.
Since then we have kept tabs on them when at the start of 2013 they dropped the WC featured single Westside Ridin.
Haze Ent recruited Vancouvers DJ Trouble, from Sonic 104.9FM, the #1 radio station in Vancouver to host Vol 4.
With appearances from Rich Rocka aka Ya Boy,on the lead single "Blowing Her Mind", the album also features the previously mentioned track with westcoast legend WC of Westside Connection, Lil Flip, Stevie Johnson of the Buffalo Bills and the remix to the 2011 "Mr. International" featuring Glasses Malone.
Haze Ent – I Only Touch Greatness Part 4 (Hosted By DJ Trouble)


Tracklist:
01. Intro Feat. WC, Crooked I, Shade Shiest, B – Legit, Rich Rocka, Big Fase 100, Dj Trouble
02. Blowing Her Mind Feat. Rich Rocka, Koncreto & B-Style
03. Beastmode Feat. Koncreto & B- Style
04. Nothing 2 Loose Feat. Stevie johnson, Koncreto & B- Style
05. Killer Flow Feat. Koncreto & B- Style
06. Mr International Feat. Glasses Malone, Koncreto, B- Style & B Diamond
07. Loud Pack Ft. Rich Rocka, Koncreto & B-Style
08. Asshole Ft. Koncreto & Lil DG
09. Like Oh Ft. Lil Flip, Tha Vill, Koncreto
10. Drunk As Fuck Ft. Koncreto & B-Style
11. I Love The Way Ft. Baze, Boy Rook, Koncreto
12. Tap It Feat. Koncreto & Lil DG
13. Westside Riding Ft. WC, Keep 6ix & Border Bruthas
14. Mississippi Ft. Koncreto & B- Style
15. I Do It Ft. Koncreto & Derrick Ortiz
16. Go So Hard Ft. Koncreto, B-Style, Tha Vill & Lil DG
17. Ready For War Ft. Koncreto & B-Style
18. Fake Friends Koncreto & B-Style
19. We Run It Now Ft. D-teck, Choclair & Koncreto
Haze Ent – I Only Touch Greatness Part 4 (Hosted By DJ Trouble)