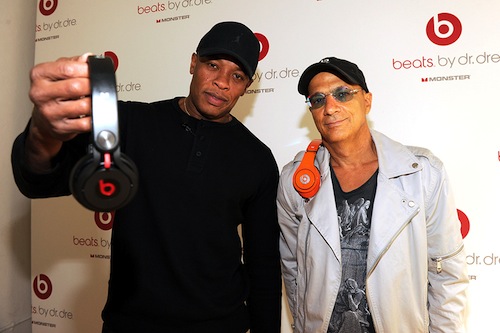 A big issue of XXL is set to drop next month. The Interscope 3 headed monster consisting of Dr. Dre, Eminem & Jimmy Iovine take center stage in what will be a must buy copy of the always popular XXL magazine.
Check out the cover below as well as what to expect when it hits the shelf, March 11th.
This month's issue of XXL celebrates Beats Electronics with the first ever magazine cover featuring Dr. Dre, Jimmy Iovine and Eminem. Beats By Dre initially took over the industry with their headphones six years ago. Now Beats is at it again with the brand's newest endeavor, Beats Music, a music streaming service which focuses on the curation of playlists by genre experts (including XXL). Eminem, one of the biggest artists under Dr. Dre and Jimmy Iovine's direction, launched the promo for his most recent solo album The Marshall Mathers LP 2 with a Beats Music commercial, kicking off the campaign for the service, which is now available in the iTunes store.

In the magazine, Dre, Jimmy and Em reflect on the impact they have made on music of all genres though the Beats brand and how the streaming service could very well change the way fans consume their music.

Besides special interviews with three of the biggest dogs in hip-hop, the issue also features stories on ScHoolboy Q, who drops his solo debut Oxymoron next Tuesday 2/25. Hit-Boy and his HS87 group discuss what they're cooking up, 10 rappers break down the most difficult verse they ever wrote and Show & Proves on Lil Bibby, Vic Mensa and Chinx, plus much more.

The magazine is on stands nationally on March 11.