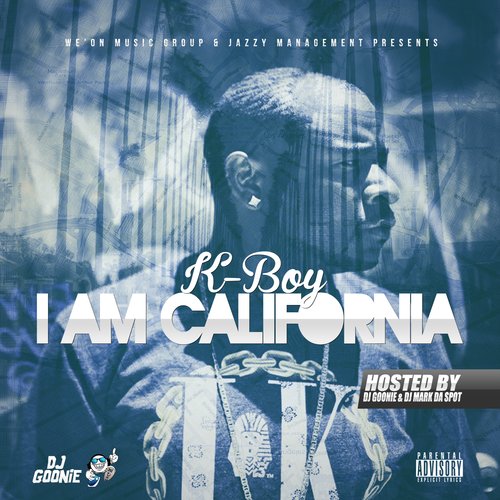 DubCNN regular K-Boy is back today with a brand new mixtape in the fan-favorite "Jackin' for Beats" style!
After the rapper was shot 4 times in 2010 he made a comeback in 2012 with the LA Leakers on the mixtape "Blue Dolphin" featuring "Bout Dat which featured Problem.
Now K-Boy – once more under the guidance of his mentor/manager Jazzy of Jazzy management – has returned alongside DJ Goonie and internationally known 106 and Park DJ, Mark da Spot for "I Am California."
The 18 track mixtape features freestyles and remixes, including new mixes of Kid Ink's "Show Me" with Chris Brown, TeeFlii's "This Dicc", Jhene Aiko's "The Worst" and "Fucc That Nigga", among others.
Listen & Download below and tell us if you're feeling the tape!
K-Boy – I Am California (Hosted by DJ Mark Da Spot & DJ Goonie) (Mixtape)

[raw]
[/raw]
K-Boy – I Am California (Tracklist)
01) DJ Goonie & Mark Da Spot Intro
02) Checc Me Out (Feat. Bre Z) (G-Mix)
03) Everybody
04) My Nigga
05) Ya Heard Me
06) Run Me My Money (Feat. Av Lmkr) (Easty Mix)
07) This Dicc (Feat. Teeflii) (G-Mix)
08) Eastside
09) Show me (Feat. Chris Brown & Kid Ink) (G-Mix)
10) Ohhh (Feat. Bre Z)
11) Burner (Feat. Tee Gee)
12) This Crip
13) Poe Up (Feat. D Loc)
14) Fucc That Nigga (Feat. Teeflii, Bre Z & Jdale) (G-Mix)
15) I'm On
16) That Part (Feat. J Spitta)
17) The Worst (Feat. Jhene Aiko)
18) Outro Tributes DJ Mark Da Spot & K-Boy