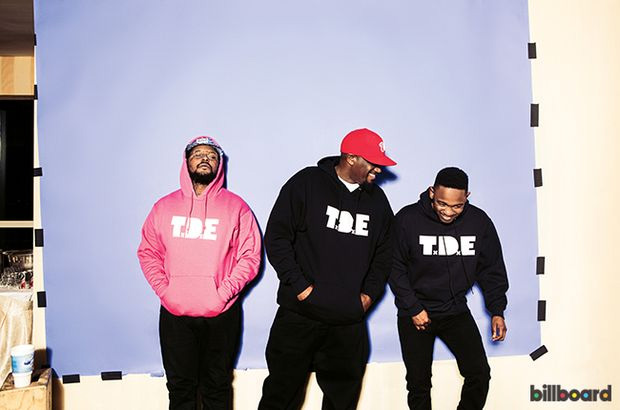 Big news regarding the ever popular TDE camp. Fresh off the back of news that Schoolboy Q is set to have the number 1 album in the country, more exciting news is hitting the web.
Billboard have Kendrick Lamar & Schoolboy Q on the cover of their new issue. Along with the cover, there is also a big feature on Top Dawg Ent. We have some key pieces below, the full article can be read here.
For those wondering what happened to the Jay Rock album we all craved when his big single All My Life was buzzing;
Jay Rock was pretty much our guinea pig – we learned everything about what not to do," says Tiffith. "When they were at Warner Bros., Naim Ali and Tom Whalley gave TDE its first opportunity. We were just coming right off the streets: We had a record deal and thought we'd made it. 'All My Life' got 800 spins and was ready to impact – and then Warner cleaned house and brought in a new team that shit on the project. If they'd put energy into it, they could've had Kendrick, ScHoolboy and everybody else on TDE today.
What to expect from TDE this year, in particular when to expect it;
In 2014, TDE hopes to lock and load its most ambitious slate of releases: Rashad and the label's first nonrap signing, New Jersey-based female singer-songwriter SZA, will be coming with albums, as will original team members Jay Rock and Ab-Soul. Meanwhile, Free thinks the long-awaited debut from Black Hippy – the supergroup featuring Lamar, Q, Rock and Ab-Soul – is likely to appear in 2014; Tiffith indicates that TDE is planning to release a new Lamar album this coming September, too.
Tiffith speaking on his relationship with Dre;
He took me to his house. When he showed me his backyard, I was like, 'What the f-?' You could see the whole city from there! Looking at that view, Dre said, 'Man, you can get this. I came from Compton, you came from Watts; work hard, and this can be yours.' But it's not about money with Dre: He just does it for the love, which was the most inspiring thing of all. When you do shit for the love, that's when you get your best shit.
Its gonna be a good year!