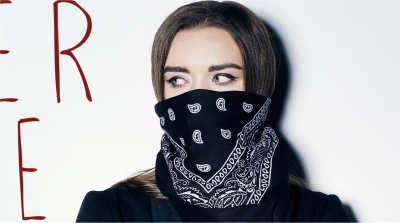 Last summer  Snoop Dogg aka Snoop Lion and his artist IZA signed on to write and produce a theme song for the serial drama, "One Life to Live."
We followed that up with the song itself – Brand New Start – as well as photos of them both in cameo appearances.
Today, acclaimed Polish pop artist IZA and music icon Snoop Dogg, have combined for "Flower In The Jungle," a collaborative mixtape hosted by the legendary DJ Skee in association with Boss Lady Entertainment.
Filled with catchy melodies and hard hitting lyrical prose, "Flower In The Jungle" is a compilation of original songs by IZA, with production by Snoop Dogg. The project features 18  tracks that highlight IZA's sweet airy vocals over Snoop's classic funk-inspired beats, making it easy to see why this doe-eyed girl has caused such a stir across the Atlantic.
When asked about working with IZA Snoop explains;
"Me and my girl IZA instantly connected. When I heard her voice over one of my beats, I knew there was something special about her. She's pure talent and I see her doing great things in 2014! She sings, produces, plays the keys and writes all her own material. You don't get to find that everyday."
Snoop and IZA are set to release a collaborative album and movie titled, Birds of a Feather, later this year. IZA explains;
"Working with Snoop was and is a dream come true! Not the kind of dream you've dreamed about since you were a little girl, but the kind of dream you wish for as a person who loves music and who wants to evolve and get better every single day. In Snoop I found a mentor, a friend and a person who shares the same love for music as I do. I think this is the reason why we connected instantly and why we did so many songs together. Snoop has taught me to always try to be the best version of myself, which I think is the most important lesson one person can give another."
DJ Skee also discussed the tape and working with IZA;
"I'm excited to be releasing this mixtape with IZA and Snoop. My boy Snoop and I go way back and have ridiculous high standards when it comes to producing music. It was refreshing to be in the studio with such raw talent. This year is going to be big for IZA, and I'm excited Snoop and I are part of this initial journey with her. Watch this space, people!"
Stream or download "Flower In The Jungle" below and drop a comment!
DJ Skee & Snoop Dogg Presents: IZA – Flower In The Jungle (Mixtape)

[raw]
[/raw]
DJ Skee & Snoop Dogg Presents: IZA – Flower In The Jungle (Tracklist)
01) Hello I'm Ready
02) That's What It Is
03) Reach Out And Touch Me
04) American Gangster
05) Baby Come Around
06) Show Me What You Sayin'
07) You Give Me Attention
08) I Told My Momma About You
09) Desire Me
10) Make Luv To Me
11) I Can Feel You
12) Just Like A Man
13) Off The Wire
14) Soul Disco Lady
15) Lean On Me
16) Back In Love Again
17) Let's Wait A While
18) I Can't Wait For Us To Fall In Love (Feat. Chris Star)