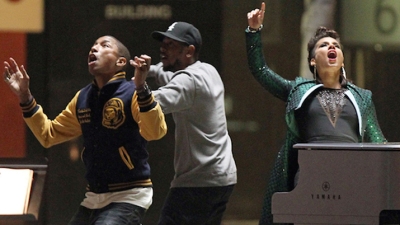 Last month we announced that Kendrick Lamar, Pharrell, Alicia Keys and Hans Zimmer had linked for the "The Amazing Spider-Man 2" OST.
We followed up with the track itself, "It's On Again," produced by Pharrell and today the video has been released!
With "The Amazing Spider-Man 2 Original Motion Picture Soundtrack" due out next week – and the movie hitting U.S. theaters May 2 – the visual has been released. Watch it below and drop a comment!
Alicia Keys – It's On Again (Feat. Kendrick Lamar) (Produced by Pharrell ) Video
Alicia Keys – It's On Again (Feat. Kendrick Lamar) (Produced by Pharrell ) Audio
[raw]
[/raw]
Stream only, support the OST and movie upon release
For those using iOS, mobile or a non-flash compliant browser – listen below