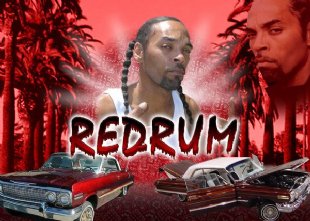 You cannot mention Classic West Coast hip-hop, without acknowledging the ground-breaking project that paved the way for many gangsta rappers, "Bangin' on Wax."
You therefore can't mention "Bangin' On Wax" without mentioning OYG Redrum 781.
We checked in with the West Coast legend, for an exclusive interview where he discusses the iconic release and the creation of the ghetto cult classic, "Piru Love" before giving his thoughts on the the politics and state of hip-hop. We also delve into why West Coast gang culture is so prevalent in today's music game, as well as ask Redum to name his favorite MC's of all time.
…………………………………………………………………………………
Interview was done in April 2014.
Questions Asked By: West Haven Blast
…………………………………………………………………………………
DubCNN: We're checking in with West Coast Rap Pioneer OYG Redrum…What's been up Rum?
What it do DubCNN!
DubCNN: Ok. Bangin on Wax. One of the most influential albums ever on the West Coast…and in the rap game in general. When recording the album, did you expect the project to take off and have the impact that it did?
Thanks for that underated acknowledgement, I percieved its importance from perception. Thats the reason for the concept, for it to impact deep and have longevity.
DubCNN: Now the epic single off of the BLOOD side of the album…Piru Luv. The track that became the theme song for basically every kid growing up in a Blood neighborhood, in Southern California – and still is – What was the chemistry like, recording with the other trail-blazing artists on that song…including the late great Bloody Mary?
Yeah, man, that song turned the country out aaaaaaand a few out of America as well! The Piru Luv song came about because we needed a bangin ass anthem, [it was] actually a friend and myself was going to get lunch throwing ideas around and that popped up. We came back and told the crew, I'm not sure how we chose who to be on the song, at first I didn't wanna be on the song because the tempo was too slow and it contradicted with my flow, my style was too active. Everybody prompted the verse(s) so history was made along side [the late] Bloody Mary on the original one. Then the remix / video version with CK, Red Rag & Lil Stretch – and actually a crip sung the hook – R.I.P Fo'Clipse.
DubCNN: What is your opinion of the current state of hip-hop and rap music?
Personally I don't see any progression in Hip-Hop, look at the acts and artists they invest in, the concepts and unconciousness of it, the marketing weaponized for us, towards us. I mean damn, they've only been doin it to us forever so when we gonna stop doin it to ourselves and start doin it for ourselves. How long does the party last and why does the industry keep an age limit on artists if music is timeless?
DubCNN: Is the West Coast where it needs to be right now? And if not, what changes need to be made?
Hell no! We say we're on a come back but I still notice a few things that was present at the downfall of the west. It's still not as much artist unity that there needs to be, and that deteriorates crowd participation and that [in turn] effects venues. We know the industry dictates and monopolizes but we also let it be done to us continously. What's being done new or even an old method to bring us back as one west? It's seperation and favoritism. Don't let the throwing up of the "W" fool you. It's vets from the west that don't invest in the west talent wise, and [there are] artists on the west talented as f*ck [that get] overlooked that would have sustained our rank. We need to form the "Double U" [an] Underground Union to offset this industy sh*t.
DubCNN: What is your opinion on the recent saturation of rappers claiming to be Bloods?
To keep it real, I'm not surprised, it was bound to happen, but the level it has grown to is a bit disrespectful that i'm not recognized by the industry bloods. The Crip rappers respect their OG's in the rap game, but the homies don't, [there are] so many blood rappers and not one mentioned us "Bangin on Wax" members as inspiration or even did a remix of a classic blood song; not one! "Suu Whoooop" though huh! No!
DubCNN: What was the inspiration behind embarking on a music career, Oyg?
Living my life from birth til present, born in New York in the early 70's listening to my moms play her generations music. Raised in la late 70's hearing that generations music, adapted and started rappin in the 80's smashing through battles on the telephone, schools or malls. Hangin out with my uncle DJ Muffla at the office, story-telling and battle rappin before bangin – basically I was raised into it, to do it, to be it – ya'll would be surprised of my musical lineage!
DubCNN: What is your opinion on the lack of support for West Coast music on FM radio. Will the internet level the playing field?
I don't listen to the radio, I dont suspect any change seeing as though the industry has a hand in that. The internet helps drastically in both cases for the industry and independant, now the independant artists have to remember to register their music to get royalties for spins if picked up and played.
DubCNN: Recently you collaborated with West Coast heavy hitter, Mitchy Slick, on the instant classic "Won't Stop Being A Blood". How did this union come about?
Yeah! That's a knocker for sure, I'm not sure what brought about the collab but I'm glad it did! I remember meeting Janky (r.i.p.) and then Mitchy but also had a friend in common Sean Deez. [From there] it all worked out!
DubCNN: With all of the superficial lyrical content in todays hip-hop game…Where do you see hip-hop going in the next 5 years? Will the art be lost? Or is there a resurgence brewing?
Well, like I stated earlier, marketing is a weapon. Psychological warfare actually. So the image percieved is a reflection of us. Look at the products endorsed, artists promoted and monopolization of the industry; until the recent internet floodgates being opened. We as a people need to reclaim a major part of what connects us. Music is universal, it goes anywhere – remember that when us artists think about longevity – so unless the artists wise up, wake up and at least wonder about a change [then] the compass gonna stay spinning, leaving us lost.
I also believe that those artists that signed to labels then left, [but kept] working hard and stayed true to the craft – that never gave up – are gonna resurface and take the field for the coast.
DubCNN: Who are your top 10 rappers, Dead or Alive?
Dylon, Dylon, Dylon, Dylon, Dylon, Dylon, Dylon, Dylon, Dylon and Dylon! Nah but for real tho, Rakim, Tupac, Eminem and myself. My standards are high and can't listen to everybody so these are the cream of the crop.
DubCNN: What can we expect from OYG REDRUM in 2014? Any new projects or collaborations?
Getting my catalog ready for release and videos to accompany. I plan on travelling a little more to meet fans and begin business ventures so my brand can flourish. To reach the lil homies that's banged out and mind not right is a goal I've been accomplishing since their role models aren't all positive. Quite a few projects and many collabs are in the vault, I'm working!
DubCNN: What is your advice to aspiring rappers, looking to breakthrough in this game?
To the upcomers: expand you mind, vocabulary and knowledge base so you can get out the box. Learn the business side so you get your paper – learn engineering so you can do you own sh*t – and stay humble so you can enjoy your life. Stay real to yourself, the art and your people.
DubCNN: Any last words Redrum? And let the fans know where they can purchase your music.
Look past my past and see my talent. Without my past I cannot be who I am today so respect my lifes timeline. I can be reached on social media sites @bighomierum on Instagram, Twitter and YouTube and Jermaine Carter on Facebook. Thanks to West Haven Blast and DubCNN for the interview.