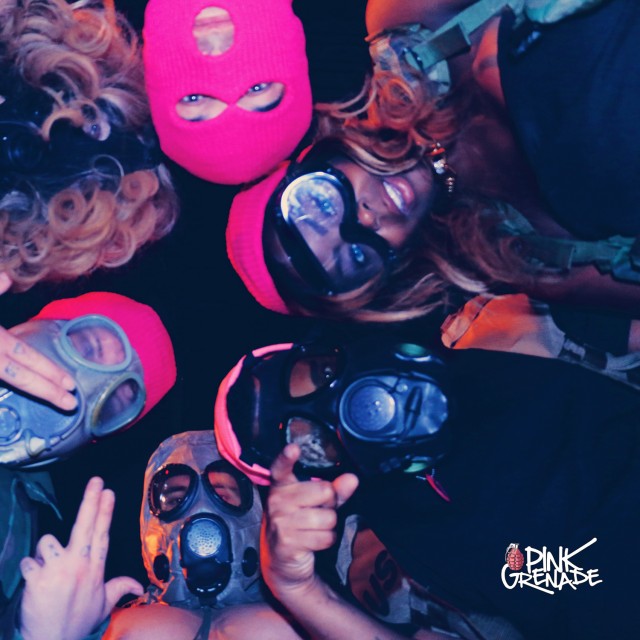 This is the very first interview with Pink Grenade, the new and eclectic fusion group who is releasing their debut album via SMH Records on July 24th.
We sit down for this exclusive interview with all the members of Pink Grenade (whose identities are hidden by masks) and the Producers and staff of SMH Records.
Big Lebowski references were thrown around everywhere during this interview.
Pink Grenade is buzzing right now with 7.5 million views on WorldstarHipHop from their controversial music video "Let's Take It Naked", a song co-mixed by Richard "Segal" Huredia (Eminem, Dr. Dre). The music video stars Abimbola Fernandez, the Nigerian Princess and billionaire heiress who was recently featured in The New York Post.
Pink Grenade has released the song "Famous As F**k" featuring Troy Ave, whose fame reached an all-time high with his recent 2014 XXL Magazine Freshman Class accolade. Additionally, Royce da 5'9 collaborated with Pink Grenade for the single "Lights Out" [which we dropped yesterday] that has flooded the internet. Fear Of A Pink Planet has already been picked up, in both physical formats (CD and Vinyl), by major retail chain Best Buy. Other than Troy Ave and Royce, the debut album also features Crooked I and Dizzy Wright. The Grenade Gang also has a feature from an A-List Hollywood star, who goes by the name of "Mr. So & So" on this project.
Look for Pink Grenade on Horseshoe Gang's upcoming album Knocking On Rap's Door, also being released through SMH Records and Treacherous COB. At the time of this interview, it was revealed that drummer Jerome "Bigfoot" Brailey of Parliament Funkadelic — who is also an inductee of The Rock and Roll Hall of Fame where he was personally inducted by Prince — has joined the group for touring and all live appearances. Bigfoot refers to Pink Grenade as "the new Funkadelic" and plays drums on several songs off of Fear Of A Pink Planet.
This interview transcript is exactly the way it happened. Being around the energy of Pink Grenade, you can feel that something major is about to happen to this group of people. Led by producers Jonathan Hay and Mike Smith, the production duo brought in an all-star cast of multi-platinum, Grammy-Award winners to assist with the unprecedented sound of Pink Grenade.
This interview was conducted on set while Horseshoe Gang and Pink Grenade were filming two separate music videos, one poolside and one that required hundreds of tubes of lipstick, on a hot July day in Charlotte, North Carolina. Joined by Real Housewives of New Jersey star, Ashlee Holmes, and a prominent NC beauty queen, the set felt more like a giant pool party than anything and the comradery between everyone was apparent.
It's a very busy time in the world of SMH Records. Take a glimpse into Pink Grenade and SMH Records and follow them on Twitter!
…………………………………………………………………………………
Interview was done in July 2014.
Questions Asked By: Tom Moon
…………………………………………………………………………………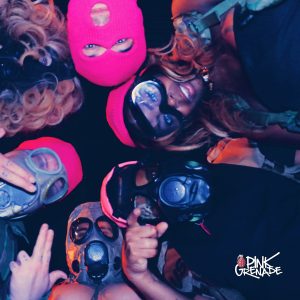 …………………………………………………………………………………
Pink Grenade – Lights Out (Feat. Royce da 5'9) (Audio)

[raw]
[/raw]
 …………………………………………………………………………………
DubCNN: How would you describe the sound of Pink Grenade?
Bim (Pink Grenade Member): I would describe it as relevant and addictive. It doesn't sound like anything else.
Ivy-Rose (Pink Grenade Member): This album sounds exactly like the turning point in all of our lives. Whether or not this album changes the world is yet to be seen. However, it changed all of us for the better. We are forever grateful that SMH Records would believe in the vision of Pink Grenade and allow us these opportunities.
Mike Smith: I would describe it as a crazy yet beautifully sewn together, unique sound.
Jonathan Hay: I would describe it as a cluster f*** of emotions that somehow sound wonderful together. It's totally original and there is nothing to compare it to. We are completely focused on this project. Pink Grenade is the most dangerous group in the world right now. Everything in pop music is too pretty right now, we are coming from totally left field.
Juan McCloud (Artist Development): Pink Grenade is an eclectic group that infuses different genres and different sounds. Each member brings their own style and oomph to the band's music.
Brian Gaskill (SMH Records COO): The sound is such a beautiful blend of rock and roll past and pop's future. The production of Jonathan [Hay] and Mike [Smith] is sharp and witty and really lent to a paradox of sound that at the same time is very familiar.
Pinky (Pink Grenade Member): Brian's nickname is Brian "8-Track" Gaskill. Make sure that is on record (laughs).
DubCNN: What do all members bring to the table? How did you strike a chemistry together?
Jonny (Pink Grenade Member): It's like we're the Justice League. Each member is capable of pulling their own weight musically but we came together to try and combine our powers to make a damn good record. However, none of us can shoot laser beams out of our eyes which would definitely be good for shows…or bad, I don't know.
Bjorn (Pink Grenade Member): Bim can shoot laser beams out of her eyes. Why do you think Mike Smith is colorblind? She actually blinded him with her laser beams (laughs).
Ivy-Rose: So the moral of the story is, "Don't look Bim in the eyes."
Ren Zo (Pink Grenade Member): What the members of Pink Grenade bring to the table is like the Last Supper the musical minus a few disciples and Jesus. A pitch-in. An auditory smorgasbord. One flavor compliments the next, you should probably clear your palates, people. Damn, I sound hungry, huh?! The good folks at SMH knew what they we're doing across the board to make it happen though. Period.
Sabrina Hale (SMH Records Creative Director): You are high, Renzo.
Erika Smith: Sabrina's visual take on Pink Grenade is truly amazing. She brings the visual elements together in a way that is so diverse and at the same time really cohesive and unique. She is really a gifted artist as you can see by all of SMH's visual attributes.
Mike Smith: Producing, songwriting, badass guitar and vocals, multiple instruments, money, swagger, style, success, experience, charm, attitude, and muscles. If I do say so myself (laughing). Jonathan is the most creative genius I have ever met. He brings that extra je ne sais quoi quality we wish we all had.
Jonathan Hay: What he said (laughs).
Billy Rassel (SMH Records Executive): I feel Mr. Hay is being extremely vague as to why we have decided to invade your planet earth. All the members of Pink Grenade bring about what you humans have been missing for so long.
Jonathan Hay: The members bring completely different vibes to the table. It's eclectic and far out. It's like a really great rug that ties the room together.
Mekai (Pink Grenade Member): What he said.
Bim: Different styles of music, image and personality. The chemistry comes from the same goal for doing this for all the right reasons.
Pinky (Pink Grenade Member): The sound of Pink Grenade isn't like anything else, or anything that you can really describe. We've had people at the label describe it as a Gorillaz, Outkast, Black Eyed Peas, John Mayer, Drake and Daft Punk type of party. I don't know what it is, but whatever it is, it just works.
DubCNN: Can you share the stories and meanings behind some key songs?
Jonathan Hay: I'd rather not. It's disturbing… but I'm only kidding. Only one thing is really disturbing on the whole project. Sadly, I had the idea. More sadly, Mike made it a lot more disturbing (Laughs).
Bim (Pink Grenade Member): Oh yes. If you are talking about what I think you are talking about. Yes, that is so disturbing. We should have never released that video!
Ivy-Rose: What she said. Although I do like the dance scene Erika choreographed.
Bim: Yes, but should've never come out (Laughing).
Bjorn: Bim and Ivy-Rose are the new Wendy and Lisa.
Ivy-Rose: If that's the case, then who is the new Prince?
Mekai: I am.
Bim: I fucking love Prince.
Mike Smith: Come on guys, Let's Take It Naked and My Ink are all part of the social experiment.
Bjorn: What he said (laughs).
Mike Smith: As you can see, we all have a sense of humor here at SMH Records and its one big family. These songs are all very personal to Jonathan and I and the true meaning will be revealed as we release additional albums. This is part of a trilogy of albums we are doing. The sequel is called Side Project Propaganda and we are already collaborating with some of the biggest rap stars on the planet for it.
Ren Zo: That's just it. Pink Grenade consists of nothing but meaning. That seems to be running thin in the industry, but, that's just my opinion dude. Subject matter is where it's at. Honestly, I'm semi-beating around the bush. I'm can't answer that to specifics. You choose your own adventure on a Pink Planet.
Jonny: Where's the fun in just laying it all out? Songs can mean different things to different people. My advice would be to take a listen and let us know what you think the songs are about. Tis more fun that way.
Bim: How can we say what the songs are about when Jonathan [Hay] doesn't ever let us hear them (Laughs).
Ivy-Rose: Every song is special to me. It's all surreal that we have an album coming out in actual stores like Best Buy.
Bim: For key songs, you know I'm going to say Gold Blooded. I'm so glad it is coming out so I get to finally hear it (Laughs).
Mekai: I sang the hook on the song called Andy Cohen. I heard it's one of the singles from the album.
Sabrina Hale: I love Andy Cohen; the song and the person.
Erika Smith (SMH Records Partner): We are all big Andy Cohen and Housewives fans here.
Pinky: We are? (Laughing)
Billy Rassel: I am.
Erika Smith: So let me clarify. Mike, Sabrina, Billy and I are fans of the Housewives (Laughing).
Mekai: I love Andy Cohen too. It sucks I missed Charlotte and didn't get to hang out with Ashlee Holmes like you all did.
Bim: I fucking love Andy Cohen. And I love Ashlee Holmes.
Jonathan Hay: I like his style dude. As far as Ashlee, she was cool and its great Ashlee is part of the SMH team and working alongside Sabrina and Erika. As to answer your question though, Nobody Knows is my personal favorite and I think without question it will be a huge hit. I also like Lipstick, Razzy Dazzy, 3 Days in LA, The Basement and All Your Love. But that's not entirely true, I love every song on the album. We spent a good year making it nonstop. We put everything we had into it and left it all on the field.
DubCNN: What does the name Pink Grenade mean?
Mike Smith: For me, pink represents mental, spiritual, and physical health, and grenade represents an explosion, so, Pink Grenade is in essence an explosion of mental, physical, and spiritual health. A cathartic event.
Jonathan Hay: Mike [Smith] is the only one in the room who has great physical health (laughing). Just look at this guy for crying out loud. Damn I need to lose weight.
Billy Rassel: I wish I had a body like Mike.
Ren Zo: I wish I had money like Mike (everyone laughs).
Ivy-Rose: I wish I had money like Bim (hysterical laugh).
Pinky: I wish I had Bim.
Bim: Ok, that's awkward (laughs).
DubCNN: How did the partnership with SMH Records come about?
Erika Smith: Per usual none this would have happened without us lovely ladies. I reached out to Jonathan via email and Sabrina was the one who read it. She then emailed us back because she recognized something special in Mike's sound and the rest is history in the making. Mike and Jonathan then began working on projects together and in the process became great friends. Sometimes the two remind me of two fourteen year-old girls between the amount of time they spend on the phone and constantly texting one another, it's hilarious.
Bim: I emailed Jonathan [Hay] and Sabrina [Hale] sometime last year and they put me in touch with Mike [Smith]. Next thing you know, they formed a label. Next thing you know, I'm in both Charlotte and New York recording music, doing interviews with the press, starting Pink Grenade, shooting my reality show sizzle reel and making music videos. I fucking love life!
Mike Smith: To answer the question, Jonathan and I started talking over a year ago and very quickly realized we were star crossed lovers. Just kidding. We did immediately figure out we are kindred spirits who were both at the same crossroads in life and what Jonathan lacks I have and vise-versa. Therefore, in order to change our paths to a life of passion and doing what we love, we decided to walk away from the things that have made us both successful financially and build a company together on one main premise, we want to make amazing music. That's it.
Jonathan Hay: Yea, what he said. The Dude abides.
Erika Smith: Sometimes I do wonder about that star crossed lovers thing. (laughing)
Sabrina Hale: (nods in agreement)
Jonny: There was this huge tornado that picked my house up off the ground and I looked out my window and saw a witch on a bicycle. And when I landed everything was in color and… Wait, that's The Wizard of Oz. Oh never mind.
DubCNN: What does the name Fear of a Pink Planet mean?
Jonathan Hay: The title is obviously influenced by Public Enemy's Fear of a Black Planet. Hopefully, Chuck D doesn't get mad about it and make me his public enemy number one as I truly love the guy. I've actually spoke with Chuck D and he's great. The conversation with him actually changed my life. He changed the way I worked in the music business. My first tattoo will be the Public Enemy logo.
Bim: Who is Chuck D?
Jonathan Hay: What? I'm leaving…
Sabrina Hale: Chuck D is the only person I've seen Jonathan get star struck over.
Mike Smith: I'd love to work with Chuck D. Last year we got to do a song with DMC [from Run DMC], so I'd be honored to do something with Chuck. Let's make that happen. I'd also like to with Big Daddy Kane too.
Jonathan Hay: And Rakim.
Ivy-Rose: What was the question again?
Mike Smith: The question was about the name Fear of a Pink Planet and the meaning. So I'll answer that (laughs). Again, derivative of our band name Pink Grenade, this album title for me represents that the World seems to be unwilling to let go of the things that makes us all unhealthy. This includes judgment, ego, unhealthy living, fear, greed, pollution, bigotry, and on and on. This is basically a statement that we are all afraid to let go of the things that make us the unhealthy physically, spiritually, and mentally.
Billy Rassel: As humans, you won't be able to comprehend what our powers hold. It is on Earth that you have a genetic make-up as a species to fear what you do not understand. We will intoxicate you, and influence your existence as a people for the rest of time. There are hidden messages placed all throughout the trilogy of music we are releasing.
Sabrina Hale: Bill is high. Too much of that Volcano Vaporizer.
Billy Rassel: Whatever, Sab.
DubCNN: What separates Pink Grenade from other groups out there?
Jonny: The diversity. Each of us has our own style of music that we've infused with other styles from other members of the group. Basically were like a big pot of Music Gumbo, and it tastes good.
Sabrina Hale: You are high, Jonny. So everything will taste good.
Jonny: No comment.
Bim: I fucking love Pink Grenade.
Ivy-Rose: (laughs) What she said.
Bjorn: The love separates Pink Grenade from everyone else.
Ren Zo: Definitely the pink part. And probably the grenade part too. No, but seriously though, you take a cohort of professionally trained, skilled, innovative, non-PC, driven individuals and there you have it my friends, something special.
Mekai: Ren Zo is so cool. The Dude abides.
DubCNN: What do you want fans or listeners to take away from the music?
Jonny: The messages behind the song. Some of the songs are just for fun to get people dancing, but other tracks really dive deep. I guess I want to see this album play on people's heart strings as well as their iPods.
Jonathan Hay: When I was producing this album with Mike Smith, I often wondered your question too. I would wonder if the future listeners would feel all the fears and abandonment issues that I was putting into the music.
Mike Smith: I agree with Jonathan. So much of this and the other albums in process for us are related to our similar abandonment issues we share. It's a driving issue in my life unfortunately and the source of eternal angst for me regardless of my age.
Ivy-Rose: Mike and Jonathan always get so serious (Laughing).
Ren Zo: A sense of belonging. Immerse yourself in this record. Take a moment. Let the quality capture your attention and the content keep you. This is timeless production just in time to save the world! Belong to the planet. It's music in rare form these days. Thank me later.
What's next for you?
Bim: The reality show! Hey guys, this is our first official group interview. So, let's take it naked.
Mekai: I'll get naked for Andy Cohen… the video that is. (Laughs).
Sabrina Hale: With everything SMH Records is doing right now, there shouldn't be a next. This is where I am and will continue to be.
Erika Smith: Mike and Jonathan have already begun working on Pink Grenade's Side Project Propaganda. Sabrina and I are collaborating on a music video right now that I am very excited for the world to see.
DubCNN: Final thoughts or last words for our readers?
Mike Smith: We've officially added drummer Jerome "Bigfoot" Brailey to Pink Grenade. He played drums on a lot on Fear Of A Pink Planet and most of Side Project Propaganda. You will see him masked up and on tour with us.
Jonathan Hay: Bigfoot also said "Pink Grenade is the new Funkadelic". That's the ultimate compliment.
Bim: I fucking love you all! And I love Dubcnn!
Sabrina Hale: Big special thanks to Dubcnn for having us. Make sure you follow us on Twitter.
…………………………………………………………………………………
Pink Grenade speaking to Tom Moon for DubCNN.