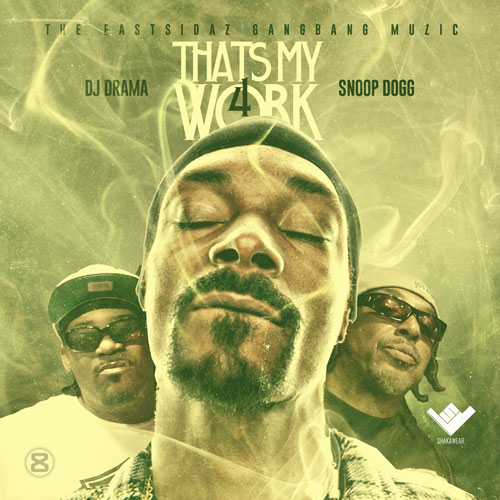 Snoop Dogg and Tha Eastsidaz have linked up with DJ Drama for another volume of the Gangsta Grillz, "That's My Work Vol. 4."
Last time out Snoop and Drama combined for "That's My Work Vol 3" featuring Daz, Kurupt, Warren G, Soopafly, Kokane & more.
This time around Snoop Dogg is back, this time with Tha Eastsidaz on-board – Goldie Loc and the just released Big Tray Deee (who we recently interviewed), with 20 new tracks over production by Fredwreck, Scoop DeVille, Battlecat, 1500 or Nothin, and more.
We have the full mixtape available for stream and download below! West-West!
Snoop Dogg & That Eastsidaz – That's My Work Vol 4 (Free Download)


[raw]
[/raw]
Snoop Dogg & That Eastsidaz – That's My Work Vol 4 (Tracklist)
01) Intro Beast
02) Get U Right
03) Payday
04) Cant Trust Em
05) Milk N Honey
06) Bottom Girl
07) Run Up On Us
08) Parkin Lot Pimpin
09) Wake UP
10) Cant Let It Go
11) Somethings Neva Change
12) Commercial
13) Bacc On Da Blocc
14) Crowns In
15) City of Gz
16) Bacc Up Hoes
17) Lets Go
18) Commercial
19) Me Mines