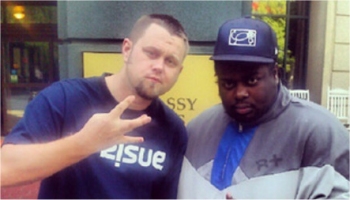 Okwerdz is back on DubCNN today with a brand new single and video!
Okwerdz established himself as one of the fiercest and most talented battle rappers in 2010 and dropped his Anti-SOPA Rap video to huge acclaim in 2012.
In 2012 we caught up with him in Malmo, Sweden, for the O-Zone Battles 2-Year Anniversary, alongside M.O.P., WC, Crooked I, Yukmouth, J-Ro, Kuzzo Fly and many more – he also dropped his Dirtbag Dan featured video for Hate Me Cuz I'm Great.
Our last two Okwardz updates have been part of cyphers – the Team Backpack Cypher featuring Chase Moore and Illmaculate and then "Cypher Effect" video where he went off alongside Mistah F.A.B., Traphik, Dizaster and Gavlyn!
Today he's back with a new record alongside Big T (from Total Slaughter TV) and Young Collage – the video also features the Miley Cyrus look alike porn star Miley May and a Method Man cameo!
Give the track a spin then watch the visual!
Big T, Okwerdz & Young Collage – All The Time (Audio)

[raw]
[/raw]
Big T, Okwerdz & Young Collage – All The Time (Video)