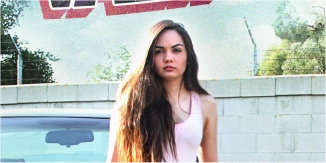 Two weeks ago 19 year old Raven Felix dropped her debut mixtape "Valifornia" right here on DubCNN.
The young SF Valley representer linked up with Snoop Dogg for the single "6 In The Morning" and flipped the SchoolBoy Q & BJ The Chicago Kid's "Studio" for the tape.
"Valifornia" features guest appearances from Snoop Dogg, Chevy Woods, Smoke Dza, Jonny Goood, 3rd Ave over production from Tekneek, Big Jerm (ID Labs), E. Dan (ID Labs), Prolific Seven and others.
Today – with the buzz still building – Raven Felix has got Compton's own Problem [who just dropped his own new mixtape] to hop on the remix for her Valley anthem "Bad Lil Bish" – listen below!
Raven Felix – Bad Lil Bish (Remix) (Feat. Problem) Audio

[raw]
[/raw]