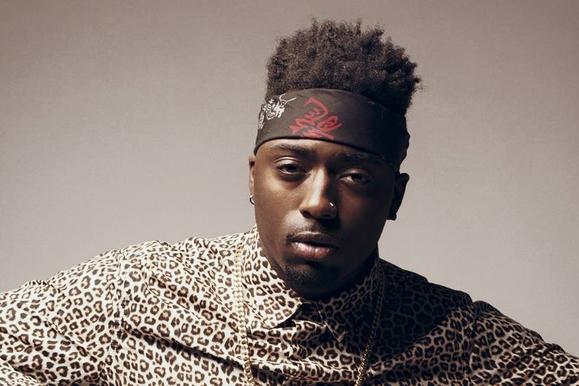 With such stellar projections for his future, Adonis is a product of humble beginnings. Born and raised in St. Louis, he was no stranger to the trials and tribulations that come along with growing up in a city that is plagued by a survival mentality. Known to those closest to him as Antonio, a portion of the young Adonis' childhood was consumed with street tales while another portion was of a suburban element.
The dichotomy of his childhood was a product of his parent's divorce. Life in his father's neighborhood included aspirations of becoming a football player while avoiding the urban drama that surrounded him. Life in his mom's care consisted of aspirations of becoming bigger than his circumstances. Although neither of his parents were musically inclined, Adonis' affinity for music came while listening and dancing to the Michael Jackson, Sade, Frankie Beverly, and Earth Wind & Fire songs his father played in his presence. He would find solace in the rhythms that allowed him to escape his reality while perfecting his synchronized steps that would one day define his path.
Just as the Greek god Adonis was granted permission by Zeus to live a portion of his yearly life on earth and the remaining months of each year living in the underworld, Antonio was living in his own personal purgatory as his life existed somewhere between the realm of the urban underworld, suburban reality, and heavenly aspirations of a better life through music.
…………………………………………………………………………………
Interview conducted in August 2015.
Questions Asked By: Chad Kiser
…………………………………………………………………………………
DubCNN: Let's hop right into your latest single, "U.N.I" — Tell me about this particular track. How did it actually come to fruition?
I think it showcases my ability to put people on a journey through music and it's just a great track for all settings, not too soft and not too hard. This track has a natural, live feel, and high energy to it. It's most definitely a chill song produced by J Hill. It's also on iTunes right now, so make sure y'all go get that!
DubCNN: Reflecting for a moment, how did you first discover your musical talent?
[laughs] Well I started off dancing and playing football so rhythm was always there. I was singing in the shower and a friend walked by noticed and said I sounded good and that I should try to sing [laughs]. So that's what I did and now I'm a singer!
DubCNN: Who have been your greatest inspirations musically and why?
I'd say Breezy because I love the anticipation of his shows and how well-rounded he is as an artist, most definitely the MJ of our time, so not bad steps to follow.
DubCNN: How then would you describe and/or define the style of music that you create and perform?
I'd say it's very different. I borrow from so many genres and times, but I try to add it to whatever is the current sound and just giving it a zone-out type of smoke and sex vibe.
DubCNN: Where does your moniker, ADONIS THE GREEK, originally derive from?
I studied Greek Mythology in college and my dad used to always have me watching Greek movies, so I fell in love with everything about it so I kind of embodied the God.
DubCNN: What do you feel you offer the music industry that we don't already have in other performers?
I feel like I'm giving music from a Hustler/Player point of view, but in a beautiful melodic way. I've been in these streets dealing with real life situations and I sing about them with no sugar coat. So perhaps to say I sing about what transpires in my life, but through a new edgy sound
DubCNN: Have you encountered any problems in getting to this point in your career?
All the time! [laughs] From budget to snakes who we all hear about in the industry, and especially breaking yourself independently is always hard, but I feel that it's God's plan for me to be successful and I won't let any bumps get in the way. I'm just glad to finally see the benefits of my hard work, it's exciting and inspiring.
DubCNN: What do you want people to get from your music?
I want them to just vibe out and get the message of keeping it real. Love, hustle, and succeed in whatever they are doing in life
DubCNN: Do you have any other outside/additional aspirations, maybe even completely away from music?
I still love football! I'm looking forward to shredding these celebrity flag football games [laughs]. And I am looking forward to going deeper into my acting career.
DubCNN: On a more serious note, are you happy with the current state of Hip-Hop music?
Well, I feel like we are in the dumb-what's-hot stages, so people are really going in struggling just looking for something catchy to put in the clubs, versus really giving themselves to the audience as an artist like the 90s and early 2000's. Like when 50 Cent first came out you felt like you knew his life, that's what I want to bring back — that organic artist feel.
DubCNN: If you could play any venue in the world, which one would you choose and why?
Madison Square for sure! It's such a legendary venue. It's like once you sell out there you've officially made it to the high echelon of artistry.
DubCNN: One track of yours that you think defines you and why?
"Not Like You" off of my EP because it basically tells people that I'm not like them.
DubCNN: The video for "All That" seems to be doing very well since its release. Who directed the video, and how did the concept come together?
The video was shot in Vancouver, BC and directed By Richie McFly. We just knew we wanted something simple with us just showcasing the song and talent, so it just fell into place.
DubCNN: Adonis the Greek is currently signed with Trevino/LRT/Ingrooves, how did that opportunity present itself?
I met Reyna at a fashion show. She heard my project and really believed in it, so I'm always down to work with people who really believe in me
DubCNN: Besides, of course, putting this project together, what other endeavors are you pursuing, both personally and professionally?
Really, I'm just fully launching my 300Olympus Brand, Clothing, website, concerts and more.
DubCNN: To date, what has been your greatest career moment?
I would say hearing people that I'm fans of tell me that they like and really vibe to my music.
DubCNN: Looking ahead, say five or even ten years from now, where do you see yourself?
I see myself up there with the greats and winning a Grammy in some way and being really big in the movie game like what Will Smith, Tyrese, and Ludacris have done.
DubCNN: As for the immediate, what's next for Adonis the Greek?
The "Age of Fame" #300Olympus take over. Get Ready