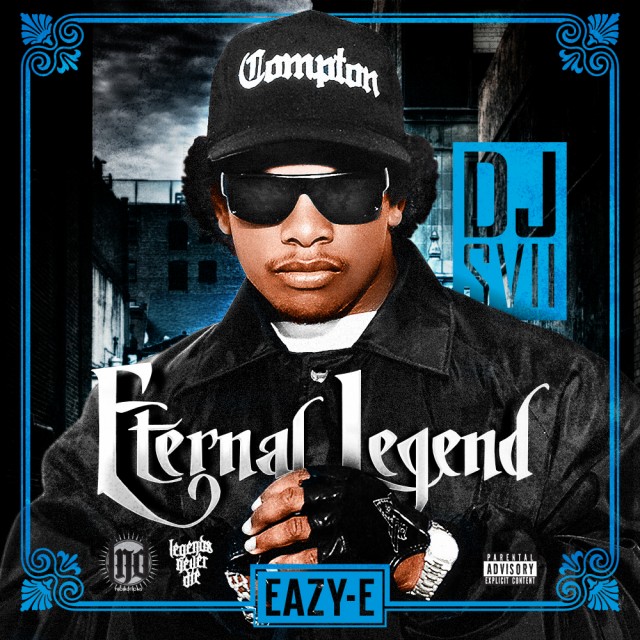 It's been almost 5 months since DJ September 7th dropped his Ty Dolla Sign #TGOD series mixtapes – "Taylor Gang or Die" – today he's back to remember a legend.
In the last 2 years he's dropped Slaughterhouse – House Arrest, a 49ers "#QuestForSix" mixtape, the Kendrick Lamar "King Of New York" project and then the ScHoolBoy Q mixtape "GrooveLine.
This month, with the NWA movie Straight Outta Compton breaking all records he's released a mixtape to remember the man, the legend, the icon – Eazy-E! The 28 track project is all you'd expect from September 7th so don't wait get streaming and remember Eazy who's birthday was on September 7th.
DJ September 7th – Eazy-E: Eternal Legend (Mixtape)



DJ September 7th – Eazy-E: Eternal Legend )Tracklist)
01) Julian Ramirez Eazy Intro
02) Str8 Outta Compton
03) Eazy-Er Said Than Dunn
04) Gimme That Nutt
05) No More Q's
06) Appetite 4 Destruction
07) Cock Tha 9
08) TMFR (RMX) ft. MC Ren (Prod. by DJ NumbaWun)
09) Real Muthafuckkin G'z
10) Dem Gangstaz (DJ SVII RMX)
11) Still A Nigga
12) Find'Em Fuck'Em & Flee
13) For Tha Love Of $ ft. Bone Thugz (DJ SVII RMX)
14) Dopeman ft. Ice Cube
15) Crip2nyte ft. Slip Capone, Kurupt, NME, E3, Deadly Threat & Tray Deee (Prod. by Dae One)
16) Boyz In Tha Hood ft. Crooked I
17) Eastside Drama ft. Brownside
18) Trust No Bitch ft. DJ Quik
19) Eazy-Duz-It
20) Real Niggaz Don't Die
21) Just Tah Let U Know
22) Still Cruzin' ft. The Game
23) We Want Eazy
24) Approach 2 Danger
25) Gangsta Gangsta ft. Ice Cube
26) Fuck Tha Police
27) All In The Same Gang ft. The West Coast All-Stars
28) Feel Tha Beat (RMX) ft. Erick Sermon (Prod. by DJ NumbaWun)
If you missed DJ September 7th's past mixtapes, get them all via our Digital Distribution Page!