THE GAME'S
is in stores NOW!

SURPRISE SECOND INSTALLMENT
PRE-ORDER AVAILABLE TODAY
ALBUM RELEASES OCTOBER 16TH
THE DOCUMENTARY 2.5
FEATURES NAS, WILL.I.AM, LIL WAYNE, YG,
DJ QUIK, BUSTA RHYMES, SCARFACE & MORE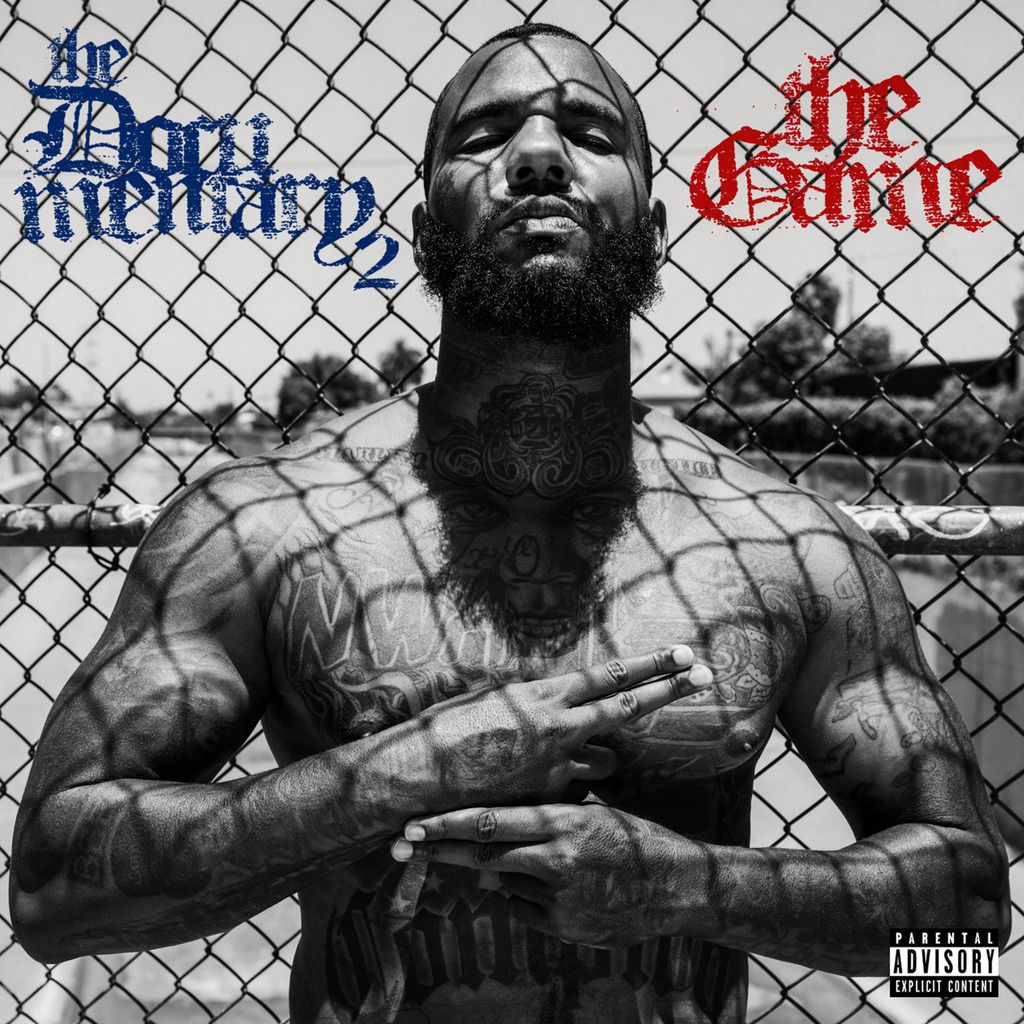 October 9, 2015 – Today, Compton rapper The Game releases his hotly anticipated follow-up album The Documentary 2 and announces the pre-order for a surprise second installment entitled The Documentary 2.5. The prolific 17-track companion album, The Documentary 2.5, will be released October 16th via Blood Money/Fifth Amendment/Entertainment One Music.
To follow-up his 2005 breakthrough debut album The Documentary, The Game kept fans waiting as he enlisted hip-hop royalty for The Documentary 2 including Dr. Dre, Ice Cube, Snoop Dogg, Kendrick Lamar, Kanye West, Drake, Future, Q-Tip, will.i.am, Fergie, Mike Will, Diddy, Cool and Dre, DJ Premier among others. Inspired by the legendary Notorious B.I.G and Tupac Shakur, Game decided to keep recording and surprise his fans with a second disc. So of course, Game's second installment The Documentary 2.5 follows suit with yet another impressive all-star list of featured artists including Nas, will.i.am, Lil Wayne, YG, DJ Quik, Busta Rhymes, Scarface, Schoolboy Q, Ty Dolla $ign among many others. Full track listing for both albums are included below.
"I'm proud to announce to my fans the REASON it took so long to get this album to you… Because it's a MOTHAFUCKIN' DOUBLE DISC!" exclaims Game. "In a world where labels punk artists to keep their albums down to 10-12 songs… I don't give a fuck because 2 of my favorite artists 2Pac & Notorious B.I.G. put out dope double albums… I figured 10 years into an iconic career I'd give my fans the opportunity to have one from me."
Game continues, "
If you have the bootleg, I don't give a fuck, do ya thang… But my true fans are the ones that stood in line for the 1st album will show & prove it again today… BELEEE DAT!

 
"
As a bonus, fans who preorder The Documentary 2.5 now will receive the instant-grat track "My Flag/Da Homies" featuring Ty Dolla $ign, Jay 305, AD, Mitch E-Slick, Joe Moses, RJ and Skeme. Furthermore, Game's recently leaked Skrillex collaboration "El Chapo" produced by Bangladesh became an instant fan favorite so it will also be included as a bonus track on The Documentary 2.5.
Game further explains, "
I'm not glorifying gangbanging by any means, but I'm telling the story about the views of gangbanging in my experience.
The reason one is a red bandana & one is a blue bandana is to bring awareness to the "100 Days 100 Nights" & ongoing Crip & Blood epidemic that has plagued my city recently & in the past… & really explain to the world how things like this occur & have occurred since 1970 when gangbangin' was created in Los Angeles & its surrounding cities & hoods… The albums are very lyrical & descriptive as well as dope production wise & Dr. Dre approved… This is AFTERMATH!!! & I cannot wait till you guys get these albums… I put everything I had into making these albums

 

#CLASSIC

 

& I appreciate you guys for the love & support & definitely your patience with me completing this album

 

#TheDocumentary2."
To commemorate The Documentary 2's release, the album's executive producer, Cash "Wack100" Jones, is sharing with fans a special short film entitled "The Making Of The Documentary 2." The film shares exclusive behind the scenes footage of Game collaborating with Dr. Dre, Ice Cube, Kendrick Lamar, Busta Rhymes, will.i.am among a never-ending list of the hip-hop elite. Private media screenings were held last month in Chicago, New York and Los Angeles with hosts: hip-hop historian Shaheem Reid, famed photographer Jonathan Mannion and "the voice of Los Angeles" Big Boy from The Real 92.3.
Additionally, Game is 1 of only 2 artists to have his own track, 'Just Another Day,' on Dr. Dre's heavily anticipated final album Compton: The Soundtrack which debuted number one worldwide and received universal acclaim from music critics.
Moreover, The Game and his charity

The Robin Hood Project

are giving back to the community with a cash giveaway. The Game is giving away $1,000 each day until his new album releases October 9th. Check out his recent interview with CNN and HLN.   

The Documentary 2.5 – Track List:
2)

       
Magnus Carlsen ft. Anderson .Paak
3)

       
Crenshaw/80s and Cocaine ft. Anderson .Paak & Sonyae
4)       
Gang Bang Anyway ft. Jay Rock & Schoolboy Q
5)

       
The Ghetto ft, Nas & will.i.am
6)

       
From Adam ft. Lil Wayne
7)

       
Gang Related ft. Asia
8)

       
Last Time You Seen ft. Scarface & Stacy Barthe  
9)

       
Intoxicated ft. Deion  
10)   
Quiks Groove (The One) ft. DJ Quik, Sevyn Streeter & Micah
11)   
Outside ft. E-40, Mvrcus Blvck & Lil E  
12)   
Up On The Wall ft. Problem, Ty Dolla $ign & YG  
14)   
My Flag/Da Homies ft. Ty Dolla $ign, Jay 305, AD, Mitch E-Slick, Joe Moses, RJ & Scheme  
15)   
Moment Of Violence ft. King Mez, JT & Jon Conner  
16)   
Like Father Like Son 2 ft. Busta Rhymes  
*BONUS: El Chappo ft. Skrillex
The Documentary 2 – Track List:
2)

       
On Me ft. Kendrick Lamar
3)       
Step Up ft. Dej Loaf & Sha Sha
4)       
Don't Trip ft. Ice Cube, Dr. Dre & will.i.am
5)       
Standing On Ferraris ft. Diddy
6)

       
Dollar And A Dream ft. AB Soul
7)

       
Made In America ft. Mvrcus Blvck
8)

       
Hashtag ft. Jelly Roll
9)

       
Circles ft. Q-Tip, Eric Bellinger & Sha Sha
11)

   
Dedicated ft. Future & Sonyae
12)

   
Bitch You Ain't Shit
13)

   
Summertime ft. Jelly Roll
14)    Mula ft. Kanye West
15)    The Documentary 2
16)   
New York, New York
19)   
LA ft. Snoop Dogg, will.i.am & Fergie