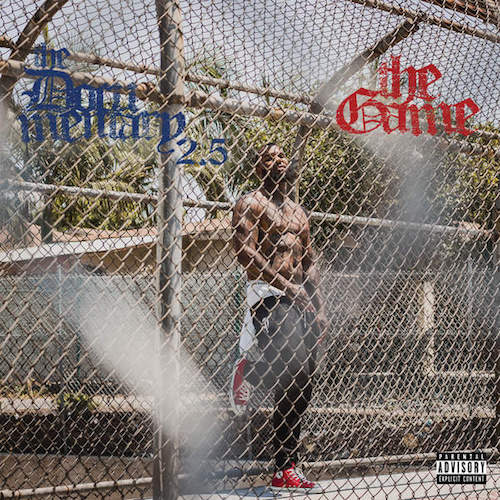 Compton rapper The Game dropped the first disc of his album "The Documentary 2" earlier this week. According to HitsDailyDouble the album will sell between 75-85K including streams. If you haven't bought a copy as of yet, make sure you go out and cop one today.
2 weeks ago we were the first media outlet to bring you 3 incredible snippets from the album for the tracks "Don't Trip" featuring Ice Cube, Dr. Dre & will.i.am, Mula featuring Kanye West and "LA" alongside Snoop Dogg, will.i.am and Fergie.
Today we bring you 3 incredible songs from Disc two including the highly anticipated DJ Quik produced song "Quiks Groove"!
The Game – The Documentary 2.5
The Game will release the second disc of the album next week on October 15th but you can pre-order "Documentary 2.5" on iTunes now!
The Game – The Documentary 2.5 (Tracklist)
01. New York Skit
02. Magnus Carlsen (feat. Anderson .Paak)
03. Crenshaw/80s and Cocaine (feat. Anderson .Paak & Sonyae)
04. Gang Bang Anyway (feat. Jay Rock & ScHoolboy Q)
05. The Ghetto (feat. Nas & will.iam)
06. From Adam (feat. Lil Wayne)
07. Gang Related (feat. Asia)
08. Last Time You Seen (feat. Scarface & Stacy Barthe)
09. Intoxicated (feat. Deion)
10. Quik's Groove (feat. DJ Quik, Sevyn Streeter & Micah)
11. Outside (feat. E-40, Mvrcus Blvck & Lil E)
12. Up On the Wall (feat. Problem, Ty Dolla $ign & YG)
13. Sex Skit
14. My Flag/Da Homies (feat. Ty Dolla $ign, Jay 305, AD, Mitch E-Slick, Joe Moses, RJ & Skeme)
15. Moment of Violence (feat. King Mez, Jon Connor & JT)
16. Like Father Like Son 2 (feat. Busta Rhymes)
17. Life
18. El Chapo (feat. Skrillex) Bonus Track
Follow Game on instagram and stay tuned to Dubcnn for the latest on The Game!