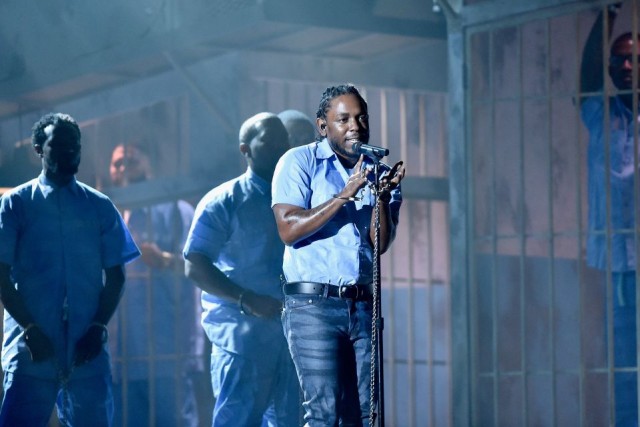 3 songs, 5 Grammys – "To Pimp A Butterfly" and K.Dot provide all the talking points of last nights Grammys Awards
Kendrick Lamar has had an incredible few years, the man we introduced in 2007 as K.Dot, last night took the world by storm with his live performance that took the roof off the Grammy awards in Los Angeles!
His high-octane, politically and racially charged performance featured three songs from last years "To Pimp a Butterfly" album. As with the album he used his stage-time to tackle racial inequality, the prison system and more – resulting in a standing ovation from the audience. Joining the TDE star on stage was fellow DubCNN alumni Terrace Martin who delivered a Jazz masterclass of Sax.
Kendrick was welcomed to the stage by actor Don Cheadle and emerged shackled in chains with a prison back-drop performance of "The Blacker the Berry." Next up was "Alright" where his backdrop was a bonfire – before finishing with a new record with verses alluding to the death of Trayvon Martin, the 17-year-old fatally shot by George Zimmerman in 2012 [we believe from a track set to leak as part of a surprise project not yet announced].
The performance ended with Lamar against a backdrop map of the African continent marked by his hometown, Compton, where he received the key to the city on Saturday.
Away from the performance the 11-time nominated album "To Pimp a Butterfly" scooped 5 awards (detailed below), fans and critics alike were bewildered he didn't scoop the deserved "Record of the Year" or "Album of the Year" gongs. Regardless massive congratulations to Kendrick for pikcing up;
Best Rap Album of the Year – "To Pimp a Butterfly"
Best Rap Song – "Alright"
Best Rap/ Sung Collaboration – "These Walls"
Best Rap Performance – "Alright"
Best Music Video – "Bad Blood"
Watch Kendrick Lamar's Grammy Awards Performance (February 2016)