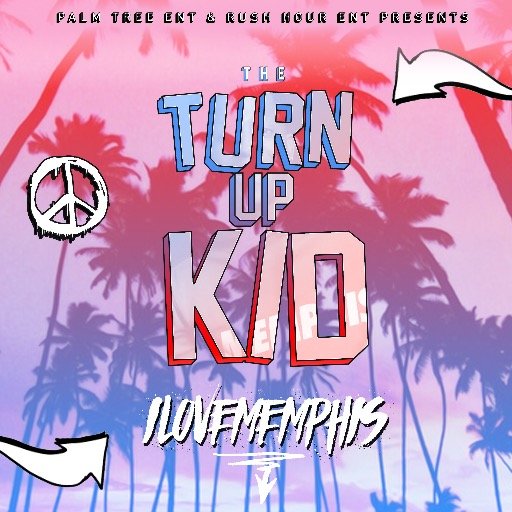 LET'S DANCE TOUR WITH SILENTO AND DLOW
STOPS IN DETROIT, CHICAGO, DALLAS, HOUSTON, LOS ANGELES,
SAN FRANCISCO, DC, NEW YORK, PHILADELPHIA AND MORE!
Yesterday, visionary hip-hop artist iLoveMemphis released his highly anticipated debut EP, The Turn Up Kid, featuring his breakthrough platinum single "Hit The Quan" and trending fan favorite "Lean and Dabb". The brand new 6-song EP produced by his hometown producer Buck Nasty also includes party anthem "Milly Rock" as well as previously unreleased "Problems," "WCW" and "Instagram Girl." The Turn Up Kid EP is available today via RECORDS/Rush Hour/Palm Tree Entertainment and is an iTunes and Apple Music first week exclusive.
Download THE TURN UP KID EP via iTunes
ILoveMemphis – Problems (Audio)
ILoveMemphis – Hit The Quan (Video)
ILoveMemphis – Lean and Dabb (Video)
Fans can also rock out with iLoveMemphis where he will be co-headlining the Let's Dance Tour alongside Silento ("Watch Me (Whip/Nae Nae") and DLow ("Bet You Can't Do It Like Me"). The tour hopes to encourage today's youth to stop the violence and start dancing. Full list of upcoming dates below.
Be sure to tune into MTV's upcoming 8th season of "Nick Cannon Presents: Wild 'N Out" for a special performance of "Hit The Quan" and "Lean and Dabb."
LET'S DANCE TOUR DATES:
3/18 Detroit Fox Theatre
3/19 Chicago Aragon Ballroom
4/1 Oklahoma City The Criterian
4/2 Dallas, TX Southside Ballroom
4/3 Houston, TX Revention Music Center
4/8 Las Vegas, NV Pearl Theatre
4/9 Los Angeles, CA Hollywood Paladium
4/10 San Francisco, CA The Masonic
4/15 Indianapolis, IN Pam Am Plaza
4/22 Wilkes Barre, PA Ali Baba Lounge
4/23 Syracuse, NY Henninger High School
4/29 Washington, DC Constitution Hall
4/30 New York, NY King's Theatre
5/1 Philadelphia, PA Fillmore
THE TURN UP KID EP TRACKLIST:
1. Problems
2. Milly Rock Party
3. WCW
4. Instagram Girl feat. Tovie
5. Lean and Dabb
6. Hit The Quan
PRESS HIGHLIGHTS:
Complex Magazine:"a fun and joyous track" (Lean and Dabb)
Pitchfork:"one of the strongest dance records in recent memory"
Rolling Stone: "2015's Hottest Dance Craze"
The Boombox (1): "20 Best Songs of 2015"
The Boombox (2): "iLoveMemphis is a visionary"
The Fader: "the 22 year old Tennessee native struck gold"
XXL Magazine: "viral smash success with "Hit The Quan"…on his way to reaching a similar state with the "Lean and Dabb"
ABOUT ILOVEMEMPHIS:
iLoveMemphis struck platinum success with his viral phenomenon "Hit The Quan" which he performed on Ellen, The Real Daytime and the BET Network. The "Hit The Quan" video has over 19 million Youtube views propelling the platinum certified single and dance craze to over 300 Million combined YouTube views, landing at #14 on iTunes and #1 on the Billboard Hot RnB/Hip-Hop Song Chart.
Most impressive is the viral craze for the song and its fun signature dance. When Kendrick Lamar and Terry Crews "Hit The Quan" it quickly became the highlight of his new video "These Walls." Meanwhile, The Rock hit the gym with "Hit The Quan" and caused a social media frenzy that was then picked up by Good Morning America, USA Today, ESPN's SportsCenter and Entertainment Weekly to name a few. Ellen Degeneres invited iLoveMemphis to show her audience how to "Hit The Quan" too. The ladies of The Real Daytime also joined in on the movement and learned the dance craze from the innovator himself. Amazingly, "Hit The Quan" has swept the nation with superstar Chris Brown, athletes Mike Tolbert and Antonio Brown, UFC Fighters and even the Memphis Action News anchors all joining in on the fun. For his follow-up single, iLoveMemphis partnered with Complex to premiere "Lean and Dabb." Within the first month, "Lean and Dabb" has already become a fan favorite, with the official music video garnering over 1 million YouTube views, selling over 100,000 digital singles and racking over 40 million cumulative streams, earning him a coveted performance spot on NBC's The Today Show.
For press inquiries contact:
greg@bighassle.com