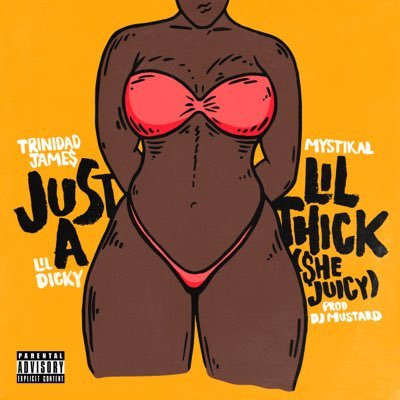 NEW SINGLE PRODUCED BY DJ MUSTARD
FEATURES MYSTIKAL AND LIL DICKY
Today, vibrant hip-hop artist Trinidad James debuts a brand new party anthem "Just A Lil Thick (She Juicy)" celebrating sexy full figured women. Southern rapper James recruits producer DJ Mustard and fellow MCs Mystikal and Lil Dicky to join the party while unapologetically defending and empowering gorgeous, healthy ladies. Fans will be able to purchase "Just A Lil Thick (She Juicy)" via RECORDS when it debuts at all digital retailers along with a festive and powerful music video on April 15th.
"It feels good to be able make real records and get them appreciated," explains James. "I've always paid attention to my different types of fans and one thing I do know for sure, is that my Thick Women have held me down for 3 years strong. I love all women but this one is dedicated to my Thick Queens. Thank you Love$."
Jame$ just wrapped up his SXSW performances at the Trinidad and Tobago showcase (Buffalo Billiards) and The Sound Release (Peckerheads), and is back in his hometown of Atlanta to hold an open casting call for his "Just A Lil Thick (She Juicy)" music video. Stay tuned as the vivacious new music video set in Atlanta's Mansion House represents all types of thick and juicy, strong and sexy women.
TRINIDAD JAMES – SOCIALS:
Instagram
Twitter
YouTube
www.TrinidadJame$GG.com
Trinidad James – Just A Lil Thick (Audio)
Most recently, James contributed to the Grammy winning Record Of The Year and #1 song of 2015: Mark Ronson's "Uptown Funk" ft. Bruno Mars. With his infamous line "Don't Believe Me, Just Watch", James also went on to create his own remix of "Uptown Funk" (2 million views) released on RCA Records. The All Gold Everything emcee was also nominated for the Ashford and Simpson Songwriters Award for his work on the song.
"This is a war; it's a fight for art. This new project is me fighting for my art. People don't always get your art until you show them," – James
About RECORDS:
RECORDS is a newly formed independent record label in partnership between Barry Weiss and SONGS Music Publishing. SONGS is home to some of today's premiere artists/songwriters including The Weekend, Diplo, DJ Mustard and Lorde.
MEDIA INQUIRES:
Greg Miller
Big Hassle Media
(424) 603-4655
greg@bighassle.com