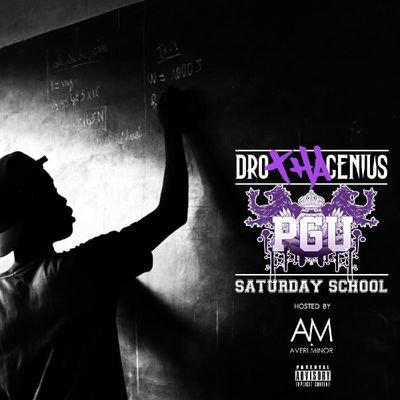 Today DubCNN sheds light on up-and-coming hip-hop artist DroThaGenius, with an exclusive interview.
DroThaGenius was born Kendrick Demark Smith on October 15, 1994. At the age of seven, Dro Tha Genius and his brother would do rap battles against each other. After winning countless competitions, Kendrick told himself that someday he was going to be a rapper. At the age of 21, he is well on his way. With Mixtapes hosted by TrapAHolics and Averi Minor he is hitting the ground running.
As a young kid he struggled with being different from what the norm is in North Chicago. And after one life changing experience where he almost was killed in a drive-by shooting, he decided that his talents as a musician would get him out of that area.
As his quest continues, he has been making waves around the country with co-signs and features from Bo Deal, Waka Flocka, and Gucci Mane. Follow Dro on Social Media, and check the exclusive interview below. Watch the new video featuring Bo Deal, and download the new mixtape hosted by Averi Minor. Only on DubCNN.
https://youtu.be/gQJkMxMsmqM
http://www.audiomack.com/album/dj-averi-minor/pgu-saturday-school
https://www.datpiff.com/tape/543880
Interview conducted in 2016.
Questions asked by: West Haven Blast.
1. DubCNN checking in with up-and-coming hip-hop artist, Dro Tha Genius. What's good fam?
Everything Right Now, im in it.
2. Having recently dropped new mixtapes with TrapAHolics and Averi Minor, you have obviously been on your grind. How would you describe your musical style? And what can hip-hop heads expect on the mixtapes?
Im A Trapped rapper not a trap rapper. That means I rap what is known to happen where im from, and because im living in it, it's what I rap about. When my environment changes, my music can change. That's what makes it authentic. Hip-hop heads can expect alot of different concepts on my mixtape due to lifestyle.
3. What initially inspired you to pursue a career in music?
Watchin my older brother rap and go hard with it, as well as my mom singing and my sister singing. When I was in High School, freshman year, I wanted to hoop. We had tryouts and they put me on the B team. After that I realized I may not make a career in basketball but I can in music. I really knew it was possible when me Bo deal Frenchie did "Bag That", I felt like I can do what people were saying I couldn't.
4. Can you tell the fans about your experience growing up in your hometown?
I grew up in North Chicago. It's what you would expect from a hood you know. You see alot of stuff that can shape you. One situation can make you or break you where I'm from. You can see a star turnt to a crackhead, kids barely even 9 gang banging, etc. I love North Chicago but its the truth. The only thing we have for fun where we live is going to Chicago which is a 20 minute drive or we can go to Six Flags. So there are not many things to move you away from that stuff ya know. I basically been through everything you go through in the hood from being shot at to fights to everything.
5. In your opinion, how has West Coast hip-hop influenced other regions of the country?
West Coast Hip Hop brought the style to hip hop. Like if Hip Hop was a mannequin, East coast would be that mannequin. West Coast is the clothes. I feel like right now with out Nwa and Death Row we wouldn't have that certain style.
6. What is your opinion on the state of hip-hop today?
Music is whatever you feeling on a beat soo im glad the genre is still alive but I feel like we need balance you know. Like for every Soulja Boy we had a Fabolous. No knock to Soulja boy but for all Dance and Club music we gotta have Lyrical and passionate music you know.
The Yin and Yang.
7. You have some major collaborations under your belt including Bo Deal, Waka Flocka and Gucci Mane. How did these situations come to fruition? And where can fans listen to that material?
1st off shout out to BSM and 1017…but my Homie Bo Deal and My Family/Management put that together. I got 2 songs With Gucci and 1 with Waka. I met Waka a week before that when they did the Drama video. So I gotta give that to my Management PGU and my Homie Bo.
8. Tell us a little bit about your upcoming projects.
I got More Videos I plan on shooting coming out and a couple ep's and Mixtapes…I'm not really set on names yet to be honest. I really just record music and see how I feel about it. Im gonna stay active ya know.
9. What new element do you plan on bringing to the rap game?
I just wanna bring a young musician to the game with limitless range, because he can relate to everybody and can make music with a Gucci Mane and then turn around and make a song with Skrillex and it makes sense. My rap style and mindset is not the same as everyone else and that's what I want to show.
10. Which artists have been major influences on your music?
My Dad played alot of 2pac and Dmx when I was young. My influences would be my Brother Nov Da Great and Rappers like J Cole, Wiz Khalifa, Juelz Santana, Meek Mill; with 2pac and Dmx being the biggest of all because I felt like their passion and aggression as well as lyrical content blended perfectly with what they did and who they were eternallt; a certain type of raw talent you know.
11. Where can fans find you via Social Media fam?
They can find me on Twitter @DroThaGeniusPGU my new page
They can find me On Instagram
@DonDroCorleone
And on Facebook @DonDroThaGenius
12. Thanks fam, from DubCNN. Anything you would like to add?
Yea man thanks for having me on DUBCnn and for the fans on this site. My new video Lui Kang ft Bo Deal is out now on YouTube. FWM ft Gucci Mane, and Bang ft Waka Flocka is on my mixtape PGU Saturday School hosted by my bro Averi Minor on Audiomack; go get it! Still shining ft Gucci Mane coming soon. Shout out to Killa Klan and Brick Squad Monopoly and 1017 Bricksquad. I love my Mom and Dad my family period PGU we workin.
And RIP to my Aunts and Uncles that passed this week.
DroThaGenius Ft. Bo Deal- Lui Kang (Official Music Video) Shot by @HighVisionFilms