KING WORLD TOUR
EXTENDED THROUGH THE FALL
 NICK HAKIM AND JOEY DOSIK
JOIN KING ON TOUR
HONORED ON BEST OF 2016 ALBUM LISTS:
TIME MAGAZINE, ROLLING STONE, PITCHFORK
COMPLEX, NPR, NOISEY AND MORE!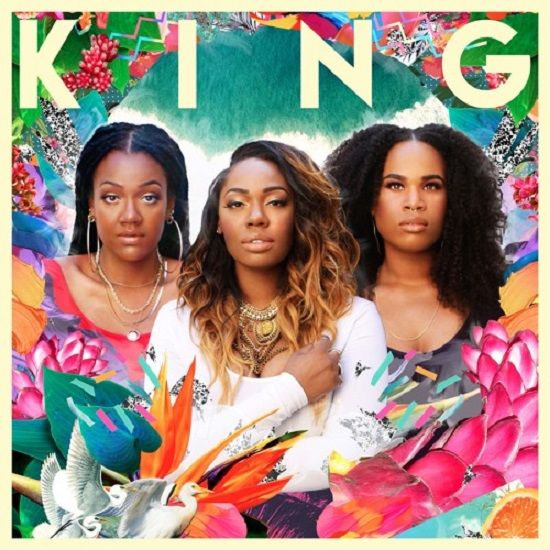 The trailblazing ladies of KING have been on the road all year with their sold-out world tour and are thrilled to announce that due to extraordinary popular demand, they have added an additional North American leg to extend into the Fall where they will make stops in Los Angeles, New York, Seattle, Boston, Atlanta among many others. Supporting the newly added Fall tour dates are Los Angeles singer-songwriter Joey Dosik and Brooklyn singer-songwriter Nick Hakim.
"It's been a great year and we're excited to continue the movement with our fall tour," says KING's Paris Strother. "Performing the record live has given new life to the songs, and we can't wait to share the new arrangements with fans across the globe. We're also excited to present Nick Hakim and Joey Dosik, two outstanding talents who will be supporting the US dates of the tour."
KING's critically acclaimed #1 independent album 
We Are KING
 has been honored with coveted spots on the "Best Of 2016 (So Far)" lists by 
TIME Magazine
, 
Rolling Stone
,
Pitchfork
, 
Complex
, 
NPR
, 
Stereogum
, 
Noisey
,
Newsday
 and 
The Quietus
.  
TIME Magazine
declared, "
This Prince-endorsed trio's debut is a Quiet Storm dreamscape, with meticulous production."
Complex
 adds that KING "
keeps traditional R&B alive and fresh.
" 
NPR
 raves about KING's 
Muhammad Ali tribute "The Greatest" and how its 
"featherweight groove hits the ears as a demonstration of joy found in gracefulness" 
and it is one of their favorite songs of the year! 
Stereogum
 is enamored as "
KING came out of the gate with the cool, relaxed stride of a thoroughbred headed to the solitude of the winner's circle."
Meanwhile 
Noisey
 perfectly sums it up: "
It's vapor-funk, dream-soul, the result of a vision that extracts the latent etherealism of innumerable late-80s R&B ballads and brings it to the forefront. Above all, these aren't empty surfaces, as the songs take melodic and textural turns that give them real heart."
Fans can also enjoy KING's recently released collaborations with Grammy winners Corinne Bailey Rae and Robert Glasper.  KING performed and co-wrote on five songs of Corinne Bailey Rae's latest studio album 
The Heart Speaks In Whispers
:  "
Green Aphrodisiac
", "
Been To The Moon
", "Tell Me", "
Horse Print Dress
", and "Taken by Dreams."
Vibe
 was swept away by lead single "Been To The Moon" praising that it "
as refreshing as when the sun comes out on a cloudy day while walking to the market" 
and noted that"with collaborations from KING and Esperanza Spalding, The Heart Speaks Volumes will swallow you whole. You'll relive all that love has to offer, the good, bad and the indescribable and your heart will pulsate."
Moreover, 
Complex Magazine
 raved that their collaboration on "Green Aphrodisiac" has a  
"soulful sound that perfectly matches her [Corinne's] lyricism.
"  Meanwhile, KING are among the starry assortment of guests on Robert Glasper's seductive Miles Davis tribute album where KING wrote, produced and performed the soulful and angelic "Song For Selim."
CHECK OUT CORINNE BAILEY RAE'S
THE HEART SPEAKS IN WHISPERS
CHECK OUT ROBERT GLASPER'S
EVERYTHING'S BEAUTIFUL
09/18 – Monterey, CA @ Monterey Jazz Fest
09/19 – Honolulu, HI @Blue Note
09/20 – Honolulu, HI @ Blue Note
09/28 – San Diego, CA @ Casbah
09/29 – Los Angeles, CA @ Troubadour
10/01 – San Francisco, CA @ The Independent
10/02 –  Petaluma, CA @ Mystic Theatre
10/04 – Portland, OR @ Doug Fir Lounge
10/05 – Seattle, WA @ Neumos
10/06 – Vancouver, BC @ Alexander Gastown
10/10 – Minneapolis, MN @ The Dakota Jazz Club
10/11 – Evanston, IL @ Space
10/12 – Detroit, MI @ El Club
10/13 – Toronto, ON @ Velvet Underground
10/14 – Montreal, QC @ Mini Campus
10/15 – Burlington, VT @ Higher Ground Lounge
10/16 – Boston, MA @ Brighton Music Hall
10/18 – New York, NY @ Irving Plaza
10/19 – Philadelphia, PA @ The Foundry
10/20 – Washington, DC @ U Street Music Hall
10/21 – Durham, NC @ Motorco Music Hall
10/22 – Charlotte, NC @ Neighborhood Theatre
10/23 – Nashville, TN @ The Basement East
10/25 – Atlanta, GA @ Center Stage
10/26 – Birmingham, AL @ Saturn
10/27 – New Orleans, LA @ Tipitina's
10/28 – Houston, TX @ The Heights Theatre
10/29 – Dallas, TX @ Kessler
10/30 – Austin, TX @ The Parish
*Joey Dosik supports for 09/28 – 10/06
**Nick Hakim supports for 10/12 – 10/30
ABOUT KING:
Twins Paris and Amber Strother and musical sister Anita Bias are KING.
In 2011, KING independently released their first EP to much acclaim; title track "The Story", "Supernatural", and "Hey" make up the 3-piece introduction to their carefully crafted dream-soul sound. Hours after the release, their EP had traveled far to music lovers and tastemakers alike, making new fans of many.
KING's eclectic sound is relatable yet not simply defined. Though they play with the boundaries of their many influences, throughout each song is the common thread of a certain soulful authenticity. The smooth vibe, intricate production, and harmonic style of their music evolved beautifully in their home studio, a product solely of the three women and a result of their Minneapolis and Los Angeles roots.
KING's debut album We Are KING blends an array of genres, eras, and influences, and serves as the introduction to the trio's lush soundscape.  We Are KING was released February 5th, 2016 via KING Creative and bowed at #1 on Billboard's Heatseekers Albums chart and in the top 10 on Independent Albums and R&B Albums chart. It has received rave reviews from NPR, Rolling Stone, New York Times, Pitchfork, Stereogum, Los Angeles Times, Newsday, Billboard, Boston Globe, Chicago Sun Times, Village Voice, Brooklyn Vegan, Ebony, VIBE, The London Sunday Times, Life +Times, the Guardian, Essence and many more.
CONNECT WITH KING:
(Please note, KING is deliberately capitalized)